The Baby Bundle: Fertile Mama Teas + Meditations
$109.00
$75.00
You save:

$34.00 USD

(31.19%)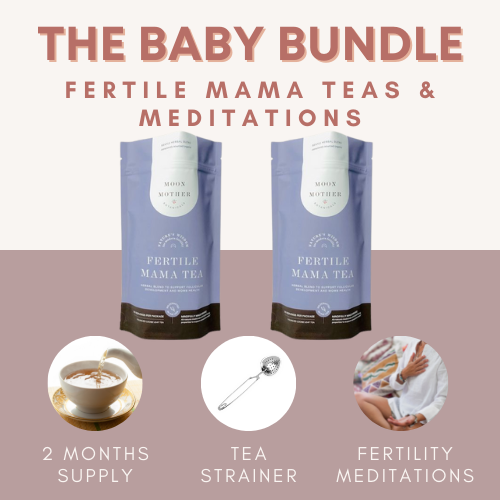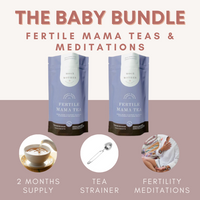 The Baby Bundle: Fertile Mama Teas + Meditations
$109.00
$75.00
You save:

$34.00 USD

(31.19%)
Product Description
Info

Ingredients

Shipping + ❤️
Description
Fertile Mama is a highly effective blend that supports the female reproductive system, especially for those looking to increase fertility and become pregnant. Rich in calcium and magnesium, it strengthens the uterus, balances hormones, soothes and cleanses the liver, promotes circulations and tonifies the blood.  
Fertile Mama can be taken throughout the entire menstrual cycle, and is especially supportive when taking during the Yin Phase, or cycle days 5-12, used in combination with other our other teas. It nourishes the body's yin, supports healthy follicular development, as well as the later thickening of the uterine lining.
Not intended for pregnant women.
5 oz. Loose Leaf contains approximately 50 servings
If you want to explore how Fertile Mama Tea may be used in conjunction with some of our other teas, check out some of our bundles such as High FSH, Moon Mama Fertility Bundle, Fertile Wellness Bundle and Recurrent Miscarriage Bundle.
HOW TO PREPARE YOUR TEA

Add 1 Tbsp. herbal blend to a tea infuser or French press.
Pour boiling water over the herbs and infuse for 5-15 minutes. Herbs may steep longer than 15 minutes for a stronger infusion.
Remove infuser or strain herbs and enjoy your tea warm, at least 2 cups per day.
You may add a bit of honey or sweetener as desired.


Fertility meditations are one of the most effective passive support tools to improve your reproductive health.

Unlike other fertility meditations, we give you a specific guided meditation for each phase of your cycle.  These exclusive meditations help your body resonate with the type of energy needed during each phase of your cycle in order to achieve optimal fertility.
During the Blood Phase, the Metal element helps your body release anything that no longer serves you.  This relates to the uterus completely shedding its old lining.
During the Yin Phase, the Water element helps your body become receptive to the feminine energy needed to nourish and nurture healthy follicles.
During the Qi Phase, the Wood element helps stimulate Liver energy to encourage ovulation.
During the Yang Phase, the Fire element supports connection between the Heart and Womb to enable implantation.
Not intended for pregnant women. Discontinue use once you have a positive pregnancy test.
Ingredients
Organic Ingredients:
Raspberry Leaf, Nettle Leaf, Red Clover Flowers, Peppermint, Lemon Balm, Lady's Mantle, Black Cohosh, Dang Gui, Passion Flower, Ginger, Dried Pomegranate, Goji Berries
Shipping + ❤️
✨ When will my order ship?
We do our best to ship within 3-5 business days. Delivery time is typically 3-5 business days, but can be longer depending on location and circumstances.

❤️ Truth, Love, Trust & Support 'Baby Dust' Promise...
"This is my life's work and I promise to always love, honor and support you on your journey towards having a beautiful healthy baby."

-Ariele Myers 🌕
Licensed Acupuncturist, Board Certified Herbalist, and Fertility Specialist.
Customer Reviews
Write a Review
Ask a Question