High FSH Bundle
$165.00
$145.00
You save:

$20.00 USD

(12.12%)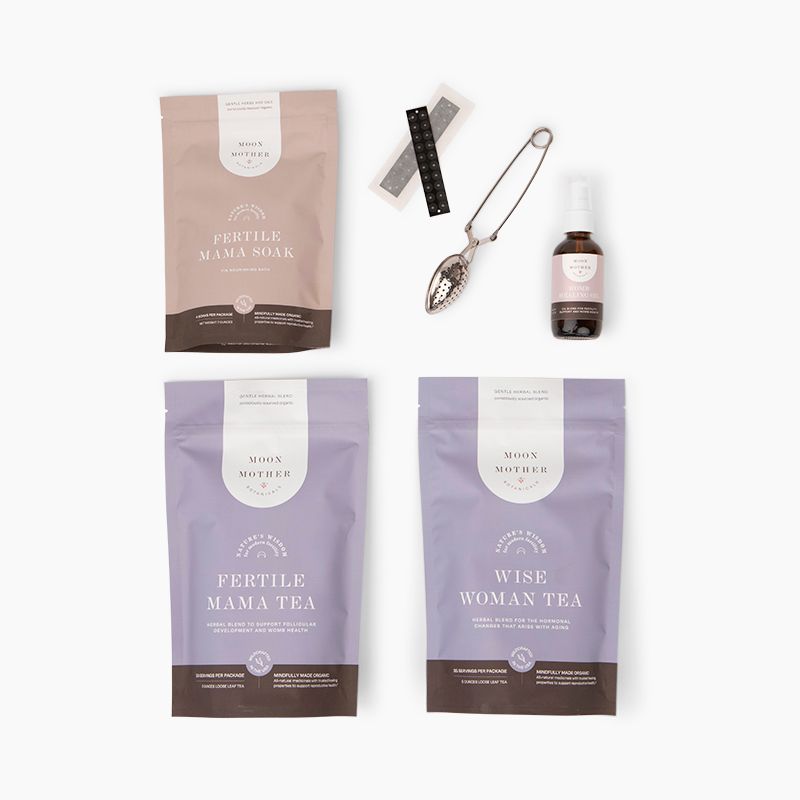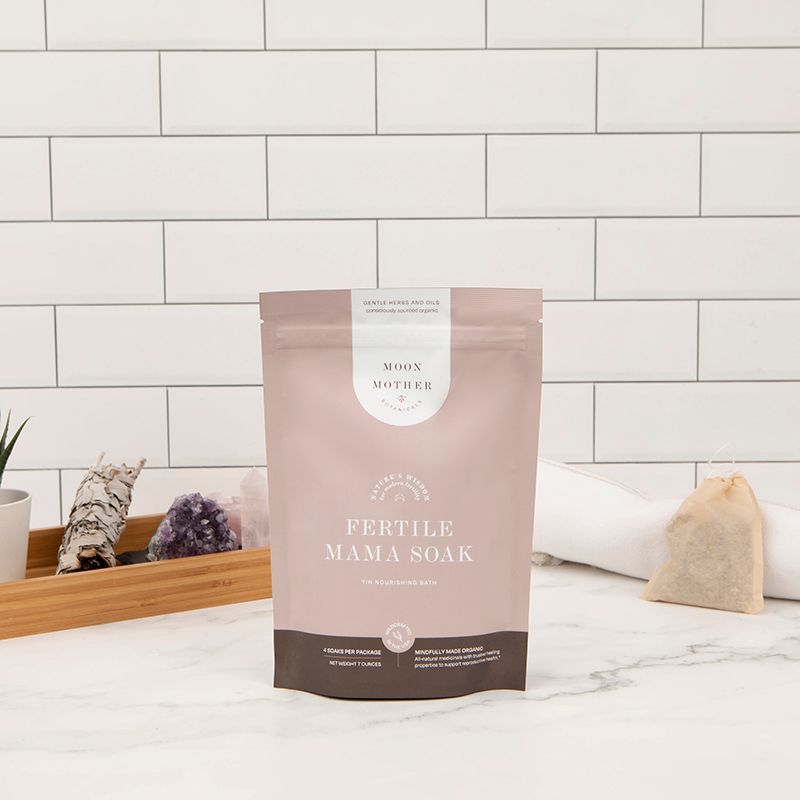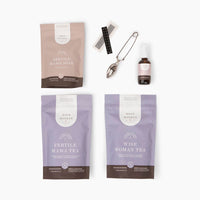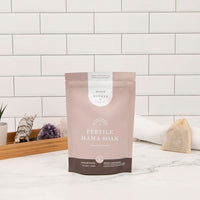 High FSH Bundle
$165.00
$145.00
You save:

$20.00 USD

(12.12%)
Product Description
Info

Ingredients

Shipping + ❤️
Description
This bundle will provide you with everything you need to begin gently improving your follicular health by nurturing and supporting your body's Yin energy.
If your FSH is above 10, you'll drink 2 cups daily of the Fertile Mama Tea and 1 cup daily of the Wise Woman Tea.
If your FSH is above 20, you'll drink 2 cups daily of the Wise Woman Tea and 1 cup daily of the Fertile Mama Tea.
Drink both teas throughout the entire cycle.
The Fertile Mama soak is best used at least once weekly. It is ideal to sit in the hot bath with the herbs and oils for as long as possible, using the Womb Healing Massage Oil to massage your womb while you're in there.
Ear Seeds are placed on the points on your ear that relate to your reproductive organs so that you can stimulate your organs throughout the day. They come with a chart so you know exactly where the seeds should be placed. Have your partner do this for you (and he can use them too!).
The Womb Healing Massage Oil comes with the link for the Fertility Womb Massage tutorial so that you can perform your own womb healing massage at own. Best done at least weekly, but not while you are actively bleeding.
You'll also receive recommendations for supplements that have been shown to support follicular health and the lowering of FSH.
For detailed instructions on how to use your bundle, Click Here.
Contains:
High FSH Bundle

Wise Woman Tea 5 oz 

Fertile Mama Tea 5oz 

Fertile Mama Soak 7 oz 

Womb Healing Massage Oil 2 oz 

Tea Infuser

Fertility Ear Seeds and Guide 

Womb Massage Video Link
HOW TO PREPARE YOUR TEA

Add 1 Tbsp. herbal blend to a tea infuser or French press.
Pour boiling water over the herbs and infuse for 5-15 minutes. Herbs may steep longer than 15 minutes for a stronger infusion.
Remove infuser or strain herbs and enjoy your tea warm, at least 2 cups per day.
You may add a bit of honey or sweetener as desired.
Not intended for pregnant women. Discontinue use once you have a positive pregnancy test.
Ingredients
ORGANIC INGREDIENTS

Wise Woman Tea:
Raspberry Leaf, Go Ji Berries, Comfrey, Red Clover Blossoms, Dandelion, Alfalfa, Nettle, Motherwort, Orange Peel, Wild yam, Licorice, Yellow Dock, Black Cohosh, ginseng, Dang Gui, Chaste Tree Berry, Rehmannia, Anemarhennae, Ophiopogon, Cinnamon, Honey

Fertile Mama Tea:
Raspberry Leaf, Nettle Leaf, Red Clover Flowers, Peppermint, Lemon Balm, Lady's Mantle, Black Cohosh, Dang Gui, Passion Flower, Ginger, Dried Pomegranate, Goji Berries

Fertile Mama Soak:
Epsom Salt, pink Himalayan Salt, Lavender Flowers, Motherwort, Mugwort, Lavender Essential Oil

Womb Healing Massage Oil:
Organic Safflower Oil, Organic essential oils of sweet marjoram, cypress, lavender, clary sage, ylang ylang, geranium, chamomile
Shipping + ❤️
✨ When will my order ship?
Once an order is placed we typically ship within 1 business day. The delivery time is typically 2-3 business days, but can be longer depending on location and circumstances.

❤️ Truth, Love, Trust & Support 'Baby Dust' Promise...
"This is my life's work and I promise to always love, honor and support you on your journey towards having a beautiful healthy baby."

-Ariele Myers 🌕
Licensed Acupuncturist, Board Certified Herbalist, and Fertility Specialist.
Customer Reviews
Write a Review
Ask a Question
08/16/2023
Cap

United States
I recommend this product
I'm pregnant!!
I got these teas 2 months ago after a friend recommended them. I almost lost all hope because I had 2 early miscarriages last year, and then was told I had premature ovarian failure at 29 years old. My doctors did not think I would conceive again. My period disappeared for 2 months and my FSH was at 38. Fast forward to a few months later & my FSH went down to 30, and my period came back. I made many lifestyle changes and I just found out today that I'm pregnant with my double rainbow baby. Thank you so much!! Don't give up hope ladies!
05/01/2023
Pnl A.

United States
I recommend this product
Good
I very much enjoy drinking these teas , my fsh went from 96 to 28. I love thes teas
04/11/2023
Meghan

United States
DO NOT GIVE UP! Miracles happen everyday!
Wisdom of the Womb success story!!! We had been trying for 2 years to have baby #2 after uneventful conception of our first DD. I have high FSH (21), loooooow AMH (.02), a diagnosed autoimmune disease and lost a fallopian tube in January of 2022 following an ectopic pregnancy. Look at that pile of problems and most would say, you need IVF…My doctor did! I wanted a more holistic approach…I did acupuncture/TCM herbs weekly for 10 months before it got to be too much to juggle with work, toddler life etc. So I switched my approach, while keeping the TCM principles. I was covering ALL the bases—-supplements for hormone balance and egg health. Castor oil packs and womb massage. Ditched every junk cosmetic/cleaning product for natural stuff. I found these teas, which I think totally made the difference, in October 2022. I drank the High FSH bundle 2x/day until my BFP in Febuary. We had our first ultrasound a couple weeks ago, the NIPT was normal () and showed it was a boy! We will welcome this miracle in October Bottom line is DO NOT GIVE UP! Miracles happen everyday! Thank you Ariel and WOTW team for all you do!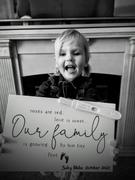 03/03/2023
Patricia D.

United States
It feels like a regular tea!
It taste good, and easy to prepared and served. I just started 3 weeks ago, I haven't seen any major changes, I haven't have my period since October, so I'm hoping this bundle will help me to bring it back. The oil smells delicious! And soaks very relaxing , I'm enjoying everything so far
More balanced than ever!
I would like to say that while I have not gotten a BFP just yet (I just started teas 3 weeks ago)….the detox tea has really helped balance me and has even curbed my alcohol consumption. I started fertile mama/wise woman on CD 1 and I have never been more calm and mentally balanced during my cycle with no clotting this cycle. For years doctors wanted to put me on birth control to manage my *** but I refused due to my desire to conceive. The teas have helped me so much. Thank you!
I'm Pregnant!
I had a high FSH and a low AMH! I took the High Fsh for months. I am 40 and 5 months pregnant.
12/13/2022
Jojo

United States
Pregnant!
I had a high FSH and a low AMH! I took the High Fsh for months. I am 40 and 5 months pregnant.
08/06/2022
Tee W.

United States
When I lost hope, this tea brought me a miracle
I've been struggling with POF since a teenager. Been thru the hormonal treatments with endocrinologists, and OBGYNs. I came across this page from a Facebook post and thought it was too good to be true. I was desperate to conceive as me and my husband were trying for 8 years and limited to solutions outside IVF. I spoke to WOTW and they suggested this bundle. Skeptical, I ended up purchasing it and saw results immediately. My hot flashes went away, vaginal dryness was gone, My mood swings were gone and my hair, skin and nails were growing! After drinking this tea for about a year and a half, I was pregnant. This tea is well worth any price tag for my ladies suffering with POi or POF. This diagnosis has ruined my spirits for over 15 years but thanks to Eve and her team, I have a happy and healthy baby girl. I highly recommend this tea.
06/02/2022
Vennessa M.

United States
My experience is good so far,I did notice some changes in my body .I ordered more so I will keep you guys posted .
05/30/2022
Alissa

United States
MY FSH went down
Just want to let you guys know my FSH went down from 73 on May 10 to 33 today May 23 !! Hot flashes are GONE. thanks to the tea To add, I just got my cycle ! Mine do not usually come unless I take progesterone!!