B*tch's Brew Tea: Herbal Blend for Menstrual Support
$44.00
$34.00
You save:

$10.00 USD

(22.73%)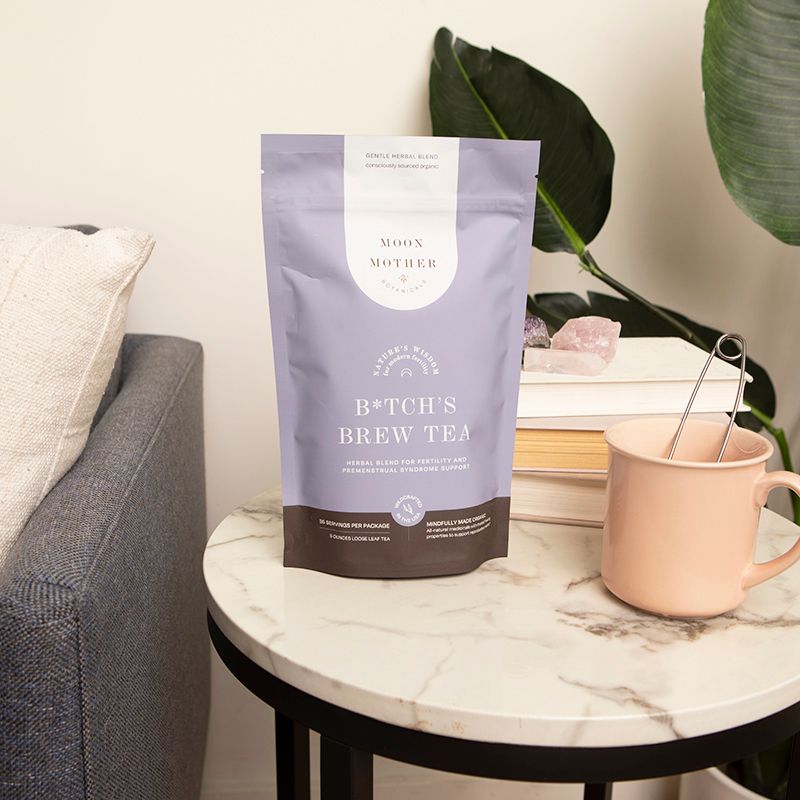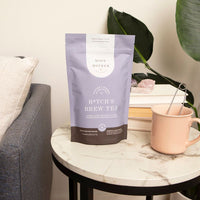 B*tch's Brew Tea: Herbal Blend for Menstrual Support
$44.00
$34.00
You save:

$10.00 USD

(22.73%)
Product Description
Info

Ingredients

Shipping + ❤️
Description
This herbal blend supports uterine health, strengthens the liver, balances hormones, encourages healthy blood flow to reduce cramping and relieves stress and anxiety.
Beneficial for any woman who experiences cramping or emotional imbalance before or during her blood phase, as well as women with endometriosis, fibroids or adenomyosis. 
For fertility support, begin drinking on Cycle Day 1 and drink throughout the blood phase (5-7 days).
To reduce PMS and cramping or pre-period insomnia, anxiety, breast tenderness and more, begin drinking this hormone-balancing blend 10 days before your period is expected, or enjoy throughout the entire cycle (the whole month).
If you'd like a better understanding on how to cycle with the other teas, view the tea schedule below, or check out our Endometriosis/Fibroid Bundle, PMS Support Bundle, Post-Miscarriage Bundle and Fertile Wellness Bundle. 
We recommend working with our products for at least 3 cycles before trying to conceive. 
5 oz. Loose Leaf contains approximately 35 servings
HOW TO PREPARE YOUR TEA

Add 1 Tbsp. herbal blend to a tea infuser or French press.
Pour boiling water over the herbs and infuse for 5-15 minutes. Herbs may steep longer than 15 minutes for a stronger infusion.
Remove infuser or strain herbs and enjoy your tea warm, at least 2 cups per day.
You may add a bit of honey or sweetener as desired.
Not intended for pregnant women. Discontinue use once you have a positive pregnancy test. 
Ingredients
Organic Ingredients:
Orange Peel, Ginger, Raspberry Leaf, Nettle Leaf, Lemon Balm, Milk Thistle, Lady's Mantle, Honey Crystals, Red Clover Flowers, Skullcap, Yellow Dock, Borage Leaf, Passion Flower, Yarrow Flower, Dang Gui, Black Cohosh, Wild Yam Root, Chaste Tree Berry
Shipping + ❤️
✨ When will my order ship?
We do our best to ship within 3-5 business days. Delivery time is typically 3-5 business days, but can be longer depending on location and circumstances.

❤️ Truth, Love, Trust & Support 'Baby Dust' Promise...
"This is my life's work and I promise to always love, honor and support you on your journey towards having a beautiful healthy baby."

-Ariele Myers 🌕
Licensed Acupuncturist, Board Certified Herbalist, and Fertility Specialist.
Customer Reviews
Write a Review
Ask a Question
12/03/2023
Diana

United States
This thing is magic I always had painful cramps with my period,and it's like my period not even there gonna buy more soon
11/25/2023
Anonymous

United States
I recommend this product
Amazing results
Lost my period for 8 months . I was diagnosed with hyperthyroidism,. Brought period back regulated cycles and ovulation.
10/19/2023
Lisa K.

United States
I recommend this product
Did not receive order
It has been 3 weeks and I have not received my order
10/23/2023
Wisdom of the Womb
Hi love, I can definitely look into this for you. For your privacy, can you please private message us or email us at support@wisdomofthewombonline.com so I can better assist you with your order? Layenne - Moon Sister Support
09/29/2023
Yasmin

United States
I recommend this product
Powerful tea
B*Tch Brew tea is life changing. I am going to purchase the 3th one.
09/20/2023
Katerin

United States
I recommend this product
Delay cycle
Hello I drank brew tea this month And i started spotting and cramps But my period was supposed to come yesterday Can the teas cause delay ?
09/21/2023
Wisdom of the Womb
Yes, spotting and bleeding, cramping, and slight alterations to the cycle are common when starting the teas, and is usually a good sign that your body is starting to rebalance, release old / stagnant energy and blood that is no longer serving you, and that your body is adjusting to the herbs in the teas. Typically, ladies notice these adjustments and symptoms subside or start to even out after a couple of weeks or in their next cycle after allowing some time for the body to balance. Cramping, specifically, is a sign that there was stagnation of Qi or Blood that needs to be cleared, so is a good indication that that blockage is being moved out! It sometimes takes a few cycles for our bodies to regulate and bodies will prioritize healing over bleeding. Ovulating on time or normally getting your period on the same days like clockwork probably wasn't necessarily helping to get pregnant - sometimes as the body clears heat or stagnation, things will adjust in a funky way before re-balancing! This doesn't mean that a missed period is something to expect from now on with the teas or that your cycle is now messed up because of the teas. This all just means that your body is working with the herbs to unravel underlying imbalances and will even back out in a cycle or two. Hope this makes sense and helps ease your mind! Layenne - Moon Sister Support
09/10/2023
Latoya B.

United States
I recommend this product
I think this tea works
I'm not done with it! I started drinking it and I add fresh squeezed lemon juice to the tea! It started making areas in my stomach hurt I take of scared me so I stopped using it for a couple days because I was going on a vacation and I didn't want feel weird while out on a beautiful island! I think it's doing some to my thyroid tumors! When I get back home I'm going to continue back drinking it twice a day! Because I've wanted a natural remedy to get rid of these things!
09/09/2023
L B.

United States
Shipping
The shipping is really slow & to have a successful business and still using USPS is crazy to me. $10 shipping to not get it priority is wild. That's the only problem I have!
09/12/2023
Wisdom of the Womb
Hi there! Per our shipping policy, orders are shipped within 3 business days of being placed. The $9.99 shipping fee accounts for both shipping and handling which includes not only postage but the time it takes for our team to process labels, buy the actual labels, assign postage, fulfill orders, and the customer service time to fix addresses are all just some examples of what that fee covers. We do utilize both USPS and UPS depending on the package and the weight and we are always monitoring prices and performance of the companies to make sure we are providing the best experience for our customers that we possibly can. Unfortunately, the shipping is out of our hands once we hand over the package and so we do the best we can do with what we can in fact control. We hope your order arrives to you quickly and we are here via email at support@wisdomofthewombonline.com if you have any specific questions about your order. Ally - Moon Sister Support
08/28/2023
Anonymous

United States
I recommend this product
Magic
Unbelievable this amazing. I have been using this B*tch's Brew Tea 2 months. My menstrual cycle back to normal. No cramps, and heavy clots. I will continue using this product. I will recommended anyone experiences irregular period or painful.
08/14/2023
Clarissa W.

United States
I recommend this product
Looking forward to the benefits
I reached out to Wisdom of the Womb for assistance in my pregnancy journey. After talking to Ally, I bought the B's Brew to help with menstrual support. My cycle was ending when it arrived, but I wanted to try it just to see what it tastes like. It tastes really good. Looking forward to drinking this when my cycle starts, and to results it will provide for me.
08/08/2023
Jenna B.

United States
I recommend this product
Best period in years
I had virtually no cramping or discomfort with my cycle while using ******* Brew tea. It was amazing!!