Fallopian Tube Blockage Bundle
$185.00
$160.00
You save:

$25.00 USD

(13.51%)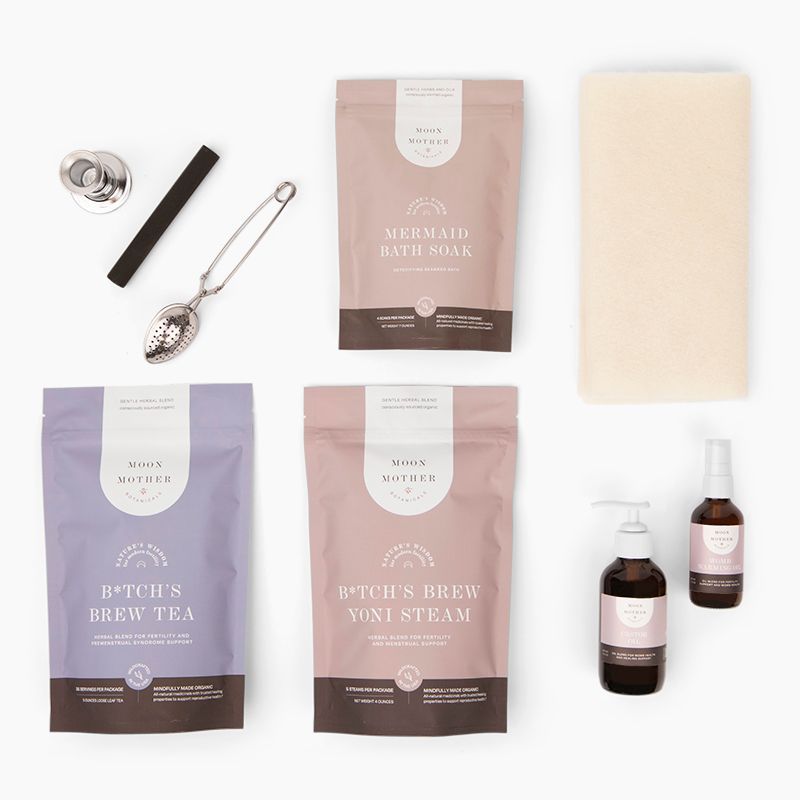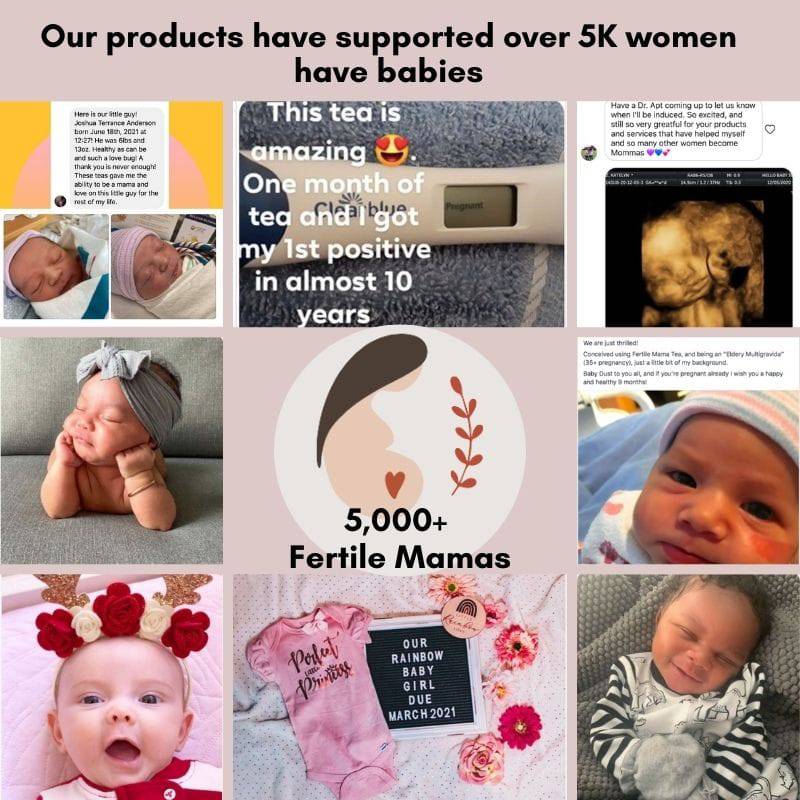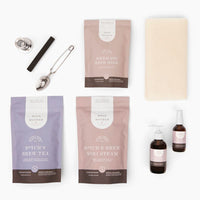 Fallopian Tube Blockage Bundle
$185.00
$160.00
You save:

$25.00 USD

(13.51%)
Product Description
Info

Ingredients

Shipping + ❤️
Description
This bundle will provide you with everything you need to begin the healing process of unblocking your fallopian tubes. Unfortunately, if you've had your "tubes tied" surgically, the ingredients in these products are not strong enough to reverse your surgery. Sorry!
It is possible, however, to support clearing the natural obstruction of the fallopian tubes, caused either by scarring, Pelvic inflammatory disease, endometriosis, etc. 
The Womb massage and moxa are essential in this instance, so be sure to watch the downloadable tutorials that will be emailed to you once the purchase is made.
You'll drink 2 cups of B*tch's Brew Tea every day.
The Mermaid Bath soak is best used at least once weekly. It is ideal to sit in the hot bath with the herbs and oils for as long as possible, using the Womb Warming Massage Oil to massage your womb while you're in there.
Use especially on your low abdomen, as moxa has been shown to help to break up scar tissue. The moxa will also stimulate your kidney energy, which is essential for reproductive health, as well as the points associated with your reproductive organs.
This particular moxa pole is smokeless, for reduced smoke and smell.
The Womb Warming Massage Oil, Castor Oil and
9x 18 inch portion of 100% 
wool flannel
are provided, as well as the link for the Fertility Womb Massage tutorial, so that you can perform your own womb healing massage at home. Best done at least weekly, but not while you are actively bleeding.
For Detailed instructions on how to use your bundle, 
Click here
. 
B*tch's Brew Tea 5 oz
B*tch's Brew Yoni Steam
Mermaid Bath Soak 7 oz
Smokeless Moxa Pole
Moxa Extinguisher
Womb Warming Massage Oil
Castor Oil
9 x 18 inch portion of 100% W

ool Flannel

Tea Infuser 
Womb Massage Video LInk
HOW TO PREPARE YOUR TEA

Add 1 Tbsp. herbal blend to a tea infuser or French press.
Pour boiling water over the herbs and infuse for 5-15 minutes. Herbs may steep longer than 15 minutes for a stronger infusion.
Remove infuser or strain herbs and enjoy your tea warm, at least 2 cups per day.
You may add a bit of honey or sweetener as desired.
Not intended for pregnant women. Discontinue use once you have a positive pregnancy test.
Ingredients
ORGANIC INGREDIENTS

B*tch's Brew Tea:
Orange Peel, Ginger, Raspberry Leaf, Nettle Leaf, Lemon Balm, Milk Thistle, Lady's Mantle, Honey Crystals, Red Clover Flowers, Skullcap, Yellow Dock, Borage Leaf, Passion Flower, Yarrow Flower, Dang Gui, Black Cohosh, Wild Yam Root, Chaste Tree Berry

Mermaid Bath Soak:
Epsom Salt, pink Himalayan Salt, Bladderwrack, Dulse, Kelp, Laminaria, Lavender Flowers, Peppermint, Essential Oils of Peppermint, Lavender, Marjoram, Rosemary, Chamomile, Basil & Eucalyptus

Womb Warming Massage Oil:
Organic Ingredients: Safflower Oil, Essential Oils of Camphor, Cinnamon, Clove, Myrrh, Lavender, Fennel, Cajeput, Ginger, Pine Needle, Rosemary, Anise, Black Pepper

Castor Oil:
100% Pure, Organic, Filtered, Expeller Pressed Castor Oil
Shipping + ❤️
✨ When will my order ship?
Once an order is placed we typically ship within 1 business day. The delivery time is typically 2-3 business days, but can be longer depending on location and circumstances.

❤️ Truth, Love, Trust & Support 'Baby Dust' Promise...
"This is my life's work and I promise to always love, honor and support you on your journey towards having a beautiful healthy baby."

-Ariele Myers 🌕
Licensed Acupuncturist, Board Certified Herbalist, and Fertility Specialist.
Customer Reviews
Write a Review
Ask a Question
07/28/2023
Anonymous

United States
I recommend this product
FTB
Order ship in timely manner and so far so good.
07/25/2023
Kristine

United States
Shocked it worked!
I hardly ever give reviews, but I'm so shocked this bundle worked for me. I read reviews prior and thought they were fake (being honest). I tried the teas for 30 days after 18 months of infertility. I got my period after the 30 days and stopped doing the bundle. Another 1.5 months later and I got a positive test. I'm now 12 weeks as I write this review! There's no other explanation other than the teas. I had 2 HSG tests show bilateral blocked tubes so theoretically I couldn't be pregnant without the teas. When I was drinking ******* brew I had quite a bit of cramping and noticed tissue in the toilet. it worked even in 30 short days. I'm still shocked but so grateful!!! Skeptic no more!
07/04/2023
Tiffany J.

United States
I recommend this product
Felopian tube blockage
I been with my husband for 11 years I have two children to an ex and after my husband and I was together after 5 years we wanted a baby and we tried and tried and nothing so I went to an obgyn everything good on their end so then I went to get an HSG done and was told both tubes were blocked I tried another product but it was not successful. I just started being consistent with this this month I also got the fertile package I have been noticing cramps when I drink the teas but last month I was not consistent not sure what to do the yoni on that is confusing I don't have any kind of seat to do that and I haven't tried the moxa yet or the castrol oil but I have done the soaks and womb warming massage. I been following on how to drink the teas so I hope and pray this works…
07/06/2023
Wisdom of the Womb
Hi love! If you're working with our Fallopian Tube Blockage Bundle, we recommend working with it for at least 3 cycles to start to notice positive shifts in the body and often women need more time than that but every woman is different. It's a really great sign that you are already feeling cramps because cramping, specifically, is a sign that there was stagnation of Qi or Blood that needs to be cleared, so is a good indication that that blockage is being moved out! You can incorporate castor oil into the womb massage as well and when it feels right, I think you'll really enjoy the moxa and the castor oil packs. I recommend visiting the Yoni Steam product page for more info on how and when to work with it and Ariele's tips on how to make your own seat! Sending so much love! Layenne - -Moon Sister Support
07/03/2023
Tukayra B.

United States
Two weeks in
I have only been on the blocked tubed bundle for two weeks now ! I think the tea is amazing ! The womb massage are great and Castro oil packs I had already started a month prior so very comfortable with that ! Bath was great ! Yoni steam was a little challenging at first trying to adjust to it being so warm down there !, I will say I did start to feel cramping the first day using the Yoni steam! I am struggling with the moxa stick because 15 mins is a long time when and it's lite. Some sparks have landed on me when I am pecking ! Can't wait to see what happens after one month
05/18/2023
Elvia L.

United States
I recommend this product
Well it's my first time using these products and I'm not sure in what order I'm supposed to use them .. but I feel ok . No positive test yet but I'm not losing my hopes
05/19/2023
Wisdom of the Womb
Hi love, sending you light and love! The journey can be tough and frustrating. Please email us at support@wisdomofthewombonline.com so that we can help you out with your situation. Looking forward to talking to you soon! Layenne - Moon Sister Support
FALLOPIAN TUBE BUNDLE SUCCESS
(FALLOPIAN TUBE PACKAGE SUCCESS STORY ) I lost a baby at 5 weeks last year on Mother's Day due to an ectopic pregnancy. Right after me losing my baby I was told to get an HSG TEST DONE .. in which I did and was told "BOTH TUBES WERE COMPLETELY BLOCKED AND THAT THE ONLY WAY I WOULD GET PREGNANT WAS THROUGH IVF !!! (which I DEFINITELY DIDN'T HAVE THE FUNDS FOR) So I start doing research, and I found wisdom of the womb I would read the reviews everyday !! UNTIL FINALLY I BAUGHT THE FALLOPIAN TUBE PACKAGE !! I would drink my B*tchs Brew Tea 2-3 time's daily mostly twice a day morning and at night and when I say I INSTANTLY START FEELING THE CRAMPS I KNEW something was working !! I also have PCOS which made me not have regular *** .. SO I WAS WAITING FOR MY NEXT *** to come (which I didn't know when it would ) I got a little worried because my *** had never showed and It was the longest it's ever been without showing !! I would feel really weird my body wasn't right at all !! so something just told me to take a pregnancy test AND I COULDNT BELIEVE MY EYES IT WAS POSITIVE !!!! I was scared because I was thinking it would have been stuck in my tubes because I only WAS DRINKING MY TEA FOR NOT EVEN A FULL MONTH !! And thought my tubes weren't unblocked yet !! I also even thought I was going to need more than just the fallopian tube package to get me pregnant so I was going to try fertile mama and more . But I went to my drs and sure enough my baby is in my uterus with a strong heartbeat I am 6 weeks and 4 days now . I am due December 29th my rainbow baby and after 10yrs I have another successful pregnancy so I am officially a mommy of 2 now !! P.s I know there's not many fallopian bundle reviews in this group so I am glad that I can help . AND BIG THANK YOU TO WISDOM OF THE WOMB ALWAYS REMEMBER GOD HAS THE LAST SAY
04/16/2023
Jay

United States
Unfortunately it didn't work for me :(
Unfortunately it didn't work for me I used the whole kit and I did get pregnant and had a miscarriage today but fertility was never the isssue for me just keeping the baby was..
04/02/2023
Ashley S.

United States
Confidence
I've been using this bundle for about a month , I started my cycle today and while I did have cramps , they weren't as painful as usual . I have irregular periods but after starting these teas my cycle finally came down for the first time in years on the intended damage it was ment to come . I have had scarred tissue and block tubes that I had surgery for in 2020 . I've tried different remedies to help but nothing did until I found wisdom of the womb . I'm so confident in these teas and oils I know I'll have my rainbow baby soon .
Miracle
I just using this fallopian tube blockage like 4 weeks ago. I really love The B*tch brew tea. I drank it 2-4 cups a day. I've only used moxa like 2x, womb massage with Castro oil 2x, bath soak 1x. I haven't use the yoni steam yet because I was overwhelmed with my busy schedule. Two days ago, I tested POSITIVE ❤️ I couldn't believe it that this is happening in over just a month. Forgot to mention, I have two tube blocked and failed an IVF last month. Awesome products and lose hope. I wish I found this product sooner. Best wishes to everyone that is TTC.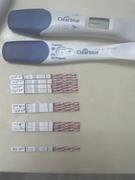 03/06/2023
Jazz

United States
Love it!
I'm 20, I've NEVER had regular periods so I never knew what cycle my body was going into (I don't even know if I ovulate) either my flow was too heavy or won't come at all (longest was 6 months). My body has been through a lot including birth control. I've been in and out of doctors offices, but my doctor obviously never really did anything that was actually helpful. Me & my family were scared that if my body kept it up then I wouldn't be able to have kids. So I tried it out and my period started within a few days. Next I'll try to take ovulation tests to see if that works then I'll update on how my body is doing.