Moon Mama Fertility Tea Bundle - New Bundle
$135.00
$115.00
You save:

$20.00 USD

(14.81%)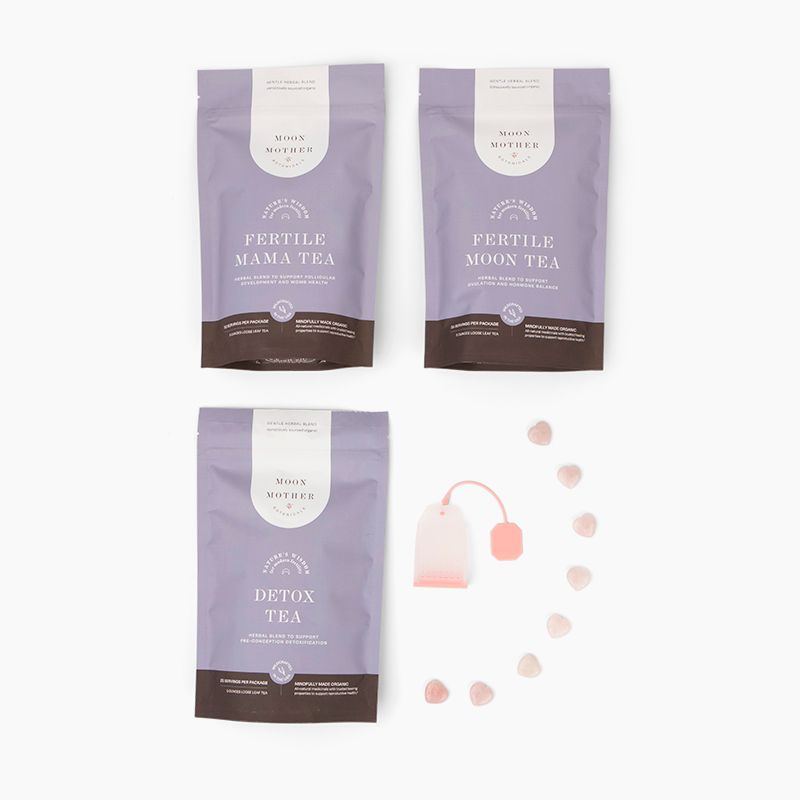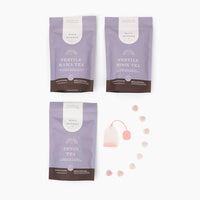 Moon Mama Fertility Tea Bundle - New Bundle
$135.00
$115.00
You save:

$20.00 USD

(14.81%)
Product Description
Info

Ingredients

Shipping + ❤️
Description
My Moon Mama Fertility Tea Bundle includes our three best-selling herbal fertility blends. This combination of teas will support your body's detoxification process so that you can better absorb the healing properties of the herbs to gently unravel any imbalances that may be contributing to infertility.

Drink 2-3 cups of tea per day.

Begin with
DETOX TEA: Herbal Blend to Support Preconception Detoxification
Drink for at least 10 days, up to 1 month before starting the next cycle, or finish the entire bag of tea.

Detox Tea is a tasty but effective herbal blend that both cleanses the liver and encourages your blood to detoxify the waste that the liver releases, so that you don't suffer from a "detox reaction." Because the liver supports hormone balance, your body will become more effective at processing and balancing fertility hormones.

5 oz loose leaf

FERTILE MAMA TEA: Herbal Blend to Support Follicular Development
Drink days 1-14
(Day 1 is the day you wake up bleeding)

Fertile Mama is a highly effective blend that nourishes the body's yin, supports healthy follicular development, as well as the later thickening of the uterine lining. Rich in calcium and magnesium, it strengthens the uterus, balances hormones, soothes and cleanses the liver, promotes circulations and tonifies the blood.  


5 oz loose leaf tea

FERTILE MOON TEA: Herbal Blend to Support Ovulation and Hormone Balance
Drink days 15 through next bleed, at which time you will switch back to Mama.

Fertile Moon Tea is especially supportive in promoting healthy and effective ovulation, menstrual regularity and Luteal Phase support. Rich in calcium and magnesium, it supports ovulation, strengthens the uterus, balances hormones, soothes and cleanses the liver, promotes circulations and tonifies the blood. 

5 oz Loose Leaf Tea
Discontinue use of all teas when you have a positive pregnancy test. My Blissful Mama Tea is perfect for the early stages of pregnancy. 

Also included:
Food-grade premium silicone tea infuser.

Heat resistant up to 480F.

Custom designed for loose leaf tea. Will help you measure the perfect amount of tea.
EASY TO CLEAN: After you discard the used leaves, just rinse with warm soapy water or throw it in your dishwasher.

*Colors vary, we apologize but we cannot specify which color you'll receive.
HOW TO PREPARE YOUR TEA

Add 1 Tbsp. herbal blend to a tea infuser or French press.
Pour boiling water over the herbs and infuse for 5-15 minutes. Herbs may steep longer than 15 minutes for a stronger infusion.
Remove infuser or strain herbs and enjoy your tea warm, at least 2 cups per day.
You may add a bit of honey or sweetener as desired.
Not intended for pregnant women. Discontinue use once you have a positive pregnancy test.
Ingredients
ORGANIC INGREDIENTS

DETOX TEA:
Milk Thistle, Red Clover Flowers, Peppermint, Dandelion, Lemon Balm, Nettle Leaf, Yellow Dock, Dang Gui, Honey Crystals, Dried Blueberries 5 oz loose leaf

FERTILE MAMA TEA
Raspberry Leaf, Nettle Leaf, Red Clover Flowers, Peppermint, Lemon Balm, Lady's Mantle, Black Cohosh, Dang Gui, Passion Flower, Ginger, Dried Pomegranate, Goji Berries

FERTILE MOON TEA:
Dandelion Leaf, Lemon Balm, Raspberry Leaf, Milk Thistle, Mugwort, Lady's Mantle, Peppermint, Skullcap, Red Clover Flower, Nettle, Passion Flower, Honey, Chaste Tree Berries, Dang Gui, Black Cohosh
Shipping + ❤️
✨ When will my order ship?
Once an order is placed we typically ship within 1 business day. The delivery time is typically 2-3 business days, but can be longer depending on location and circumstances.

❤️ Truth, Love, Trust & Support 'Baby Dust' Promise...
"This is my life's work and I promise to always love, honor and support you on your journey towards having a beautiful healthy baby."

-Ariele Myers 🌕
Licensed Acupuncturist, Board Certified Herbalist, and Fertility Specialist.
Customer Reviews
Write a Review
Ask a Question
09/20/2023
Katie K.

United States
I recommend this product
Love it!!!
Beautiful. I have only yet had the detox tea but love it. I taste the dandelion. Very healing.
09/07/2023
Lennie

United States
I recommend this product
So far so good!
I bought this bundle and today it's my first period day so I began with the fertile mama and I took the Detox for the past 3 weeks, I usually have a very painful period and I always have cramps the first 2 days. Today it's my first day and I have no pain at all, and feel very good mood wise. The fertile mama tea taste very good btw, I'm a tea girl so I enjoy drinking it very much, so hopefully I'll update you soon if I get pregnant!
07/20/2023
Anonymous

United States
I recommend this product
Great taste
Love the taste. I haven't started on the fertile moon yet, but the other 2 teas taste wonderful. Would definitely recommend.
07/19/2023
Brooklin

United States
It's working
I've had endometriosis for 15 years. This tea has healed it. I've been drinking it for three months consistently, and it has made my excruciating cramps go away, entirely, and has regulated my cycle. It has given me the quality of life that I've prayed for, and that doctors told me I'd never have. Appreciative from the bottom of my heart. I will drink your teas forever.
07/03/2023
Cristina T.

United States
I recommend this product
I love it and it really helped me
This is my second time buying this bundle,and the first time I didn't need to use all of them just the detox and i get pregnantnow my baby is turning 6 month tomorrow and i need to start again to give my little one another sibling so I bought the same bundle to see if i can have triplets i trust and believe so much on this product that my expectations are highi put everything on God's hands firsti really really really recommend all this naturals products cause if just with those i used and i have my second miracle after 15 years so they really work ….thanks alottttt
06/27/2023
Adriana A.

United States
I recommend this product
M experience
Worth every dollar!!!! I wish I knew about this sooner but now I will tell everyone I know!!!
06/21/2023
Carly L.

United States
I'm just 4 days in!
I just started, however I cannot tell you how awesome this stuff is. A few days ago I was cd47 and before that on cd11 I had a faint positive… it didn't stick but I barely bled at all. My doctor said I would and just to be patient.. basically it was yet another chemical. I've had 3 chemicals and 1 miscarriage at 12 weeks. Lack of progesterone (so now I have suppositories to support after every ovulation.. this is new) Anyhow, I was so irritated because I knew I needed to bleed more and there were no signs.. I have been taking a cup in the morning and right before bed. I know it says to steep for 15 but i steep for 30 to get all the goodness out. I bought the bundle and plan to support myself throughout this process. I'm 39 and no babies yet. BUT GOD! He alone is faithful but I'm grateful for His guidance to these teas. I started my period today and I couldn't be more ecstatic. I can put it behind me now. I've also started reformer Pilates and believe it is all working in conjunction with each other. Praying for all on this forum for sticky babies and peace that surpasses understanding through the process. Thank you for the gift of these wonderful teas… this soon to be momma appreciates you so much!
06/16/2023
Anonymous

United States
I recommend this product
Yeah I'm glad that I'm still drinking my moon mama tea detox tea and the other one. It is so good
05/18/2023
Anonymous

Canada
I recommend this product
Fertilité
Jusque là je continu toujours le traitement ,je patiente jusque au bout pour avoir une meilleur résultat ,je crois a cela
05/18/2023
Sireesha K.

United States
I recommend this product
Love it
Jus waiting to get pg lol!!!! But no the teas taste great