Tension Tamer: Stress-Relieving Oil Blend
$50.00
$44.00
You save:

$6.00 USD

(12.0%)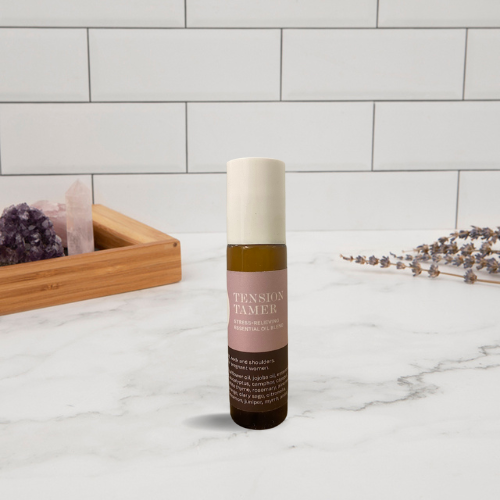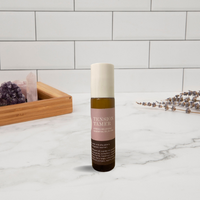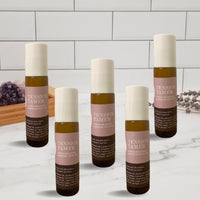 Tension Tamer: Stress-Relieving Oil Blend
$50.00
$44.00
You save:

$6.00 USD

(12.0%)
Product Description
Info

Shipping + ❤️

Ingredients
Description
Tension Tamer is an oldie but goodie,  the #1 Best Seller from Ariele's Apothecary.
NOT for already pregnant women, but perfect to support women on their pregnancy journey AND for anyone who could use a little stress and tension relief.

Our essential oil blend comes in a super convenient and easy to use application:  a pocket-sized roll-on applicator to treat shoulder, neck and back tension.
Use our roll-on to roll away tension headaches, migraines and stress, and use as an energy-booster throughout the day for tingly cool tension relief!
Shipping + ❤️
✨ When will my order ship?
Once an order is placed we typically ship within 1 business day. The delivery time is typically 2-3 business days, but can be longer depending on location and circumstances.

❤️ Truth, Love, Trust & Support 'Baby Dust' Promise...
"This is my life's work and I promise to always love, honor and support you on your journey towards having a beautiful healthy baby."

-Ariele Myers 🌕
Licensed Acupuncturist, Board Certified Herbalist, and Fertility Specialist.
Ingredients
Organic Ingredients:

Safflower Oil, Jojoba Oil, Essential oils of Peppermint, Eucalyptus, Camphor, Cajeput, Lemon, Thyme, Rosemary, Pine Needle, Fennel, Sweet Orange, Clary Sage, Citronella, Wintergreen, Cinnamon, Juniper Berry, Myrrh, Anise
Customer Reviews
Write a Review
Ask a Question
08/11/2023
Anonymous

United States
I recommend this product
Works like magic
This oil is awesome, I am on my feet all thru my 10hrs shift and I work with my hands a lot. I used to take Tylenol and ibuprofen for muscular pain especially around my shoulders, but since I started using this Tension Tamar oil, I stopped taking those meds at work. As soon as I apply the oil, within 10mins, pain is gone. I used it on one of my colleagues at work and we were both surprised how her back pain disappeared after I applied my oil on her back. I highly recommend this Tension Tamar oil especially for muscular aches and pains.
07/31/2023
Sarah O.

United States
05/02/2023
Katie S.

United States
I recommend this product
Love it!
Work has been super stressful lately and I know it causes be tension headachs so I thought I would give this a try! I do instantly notice that I feel calmer once I apply this and the cooling feeling it leaves feels amazing. I already had several co workers ask where I got it from!!
03/29/2023
Cally U.

United States
Bliss
I use this beautiful oil blend throughout my day and it instantly helps me calm and recrnter. I love it so much I bought one for my mom too ♥️
01/04/2023
Jazmyn B.

United States
Tension oil
I have been using the tension oil when I get tension headaches from time to time. And when I rubbed it on the side of my forehead and side of my neck, I immediately feel relief and I haven't been using any painkillers such as Advil etc! Will be buying more in the future once I run out. Thank you!
11/15/2022
Adriana

United States
Smalls Great.
Smells great. Feels nice and tingly. I'm using it everywhere!
11/15/2022
Donna

United States
My favorite!!
Tension Tamer is BACK!! I'm so happy to see this. I was a teacher of one of Ariele's kids back in the day, and she gifted me a Tension Tamer roll on... this was probably 10 years ago. I've been buying them ever since... I'm addicted! They help mid-day to relieve some headachey stress (I'm a preschool teacher) and the peppermint is like a little pick me up instead of a mid-afternoon coffee. I started giving them as (perfect) gifts too! When she stopped selling them, I think I bought her last 10 bottles! Anyway, so glad to see it back, and I'm going to stock up for stocking stuffer gifts! Love the new labeling too