Purify Anti-Microbial Blend/ Hand Sanitizer
$15.00
You save:

$-15.00 USD

(100%)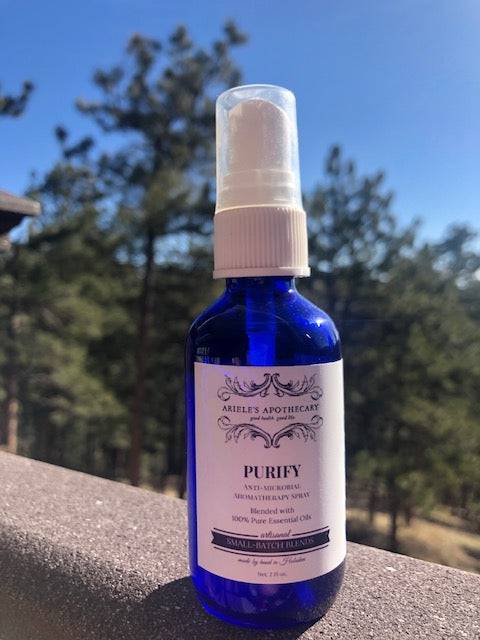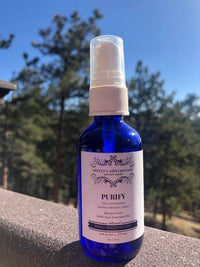 Purify Anti-Microbial Blend/ Hand Sanitizer
$15.00
You save:

$-15.00 USD

(100%)
Product Description
Description
This stuff is no nonsense. The pure essential oils have been proven to kill microbes, including bacteria and viruses.
Purify Anti-Microbial Aromatherapy Spray is a powerful blend of refreshing and energizing anti-microbial essential oils in a distilled water and grain alcohol base.
This convenient spray can simply be thrown into your bag for use as a hand, toy or counter sanitizer.  Keep in your bathroom or nursery to "air out" stinky odors, or spritz on your body to freshen up. Use on hands as you would use any hand-sanitizer.
Shake well before each use.
Ingredients: Essential oils of camphor, eucalyptus, lemon, sweet marjoram, sweet orange, pine needle, rosemary, lavender, lemongrass, peppermint, clary sage, tea tree, wintergreen, sweet white thyme, oregano, juniper berry
Shipping + ❤️
✨ When will my order ship?
Once an order is placed we typically ship within 1 business day. The delivery time is typically 2-3 business days, but can be longer depending on location and circumstances.

❤️ Truth, Love, Trust & Support 'Baby Dust' Promise...
"This is my life's work and I promise to always love, honor and support you on your journey towards having a beautiful healthy baby."

-Ariele Myers 🌕
Licensed Acupuncturist, Board Certified Herbalist, and Fertility Specialist.