Fertility Bath Soaks
$140.00
$95.00
You save:

$45.00 USD

(32.14%)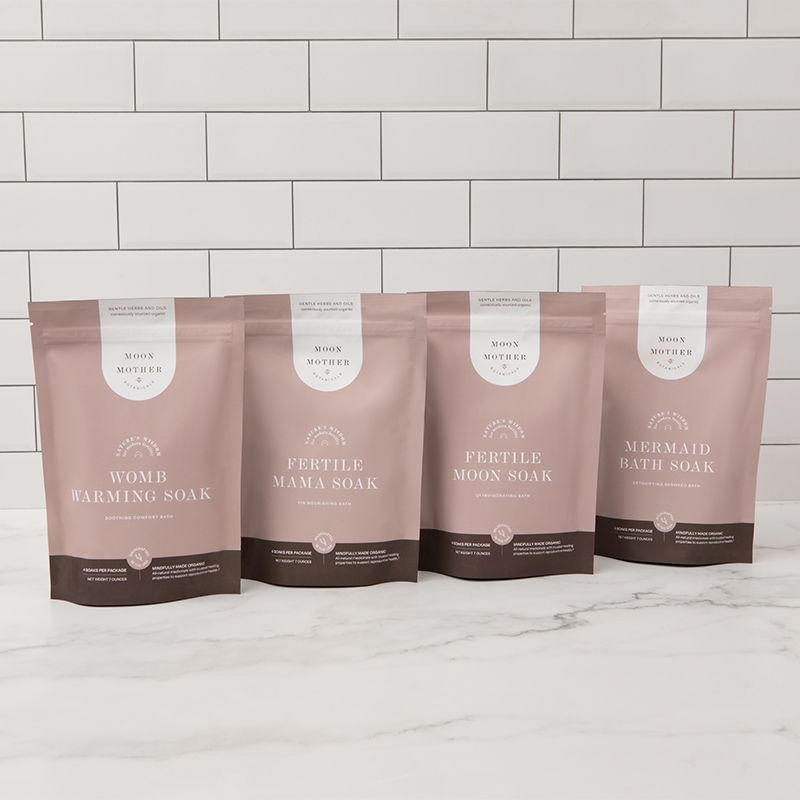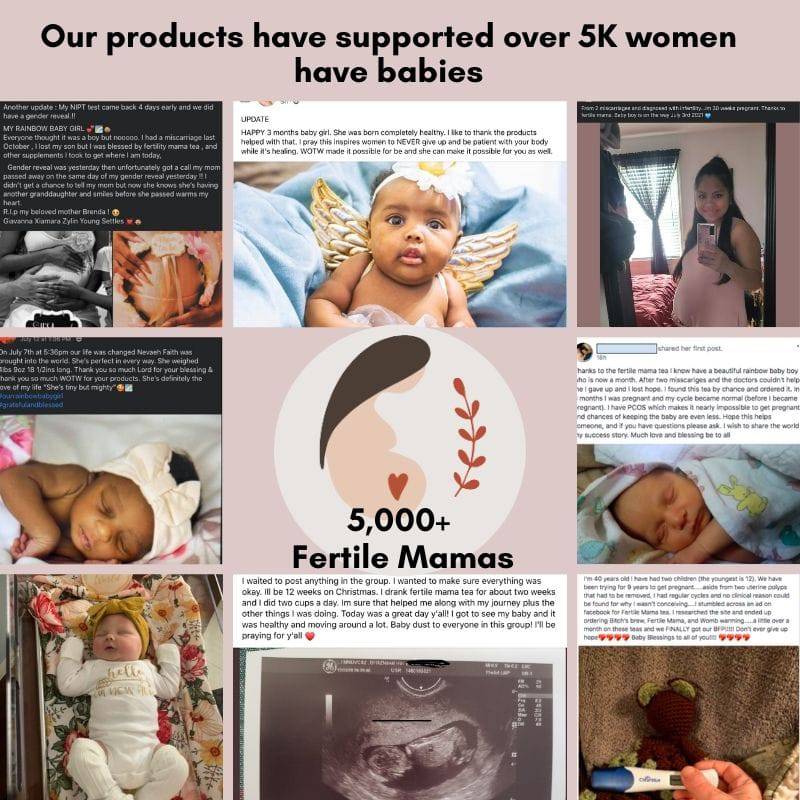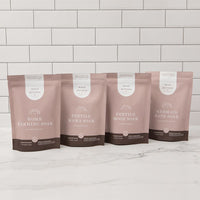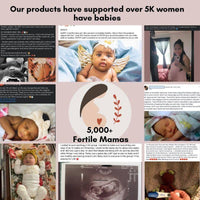 Fertility Bath Soaks
$140.00
$95.00
You save:

$45.00 USD

(32.14%)
Product Description
Description
Receive 7 oz each of the following:

* The Fertile Mama Soak combines lavender oil and pink salts to help support the Yin/ Follicular Phase of your cycle, while your follicles are developing.
* The Fertile Moon Soak combines Qi- Invigorating herbs like comfrey and mugwort to encourage ovulation during the Qi/ Ovulatory Phase of your cycle.
* The Womb Warming Cycle combines warming herbs like cinnamon, fennel and mugwort with warming essential oils to help support the Yang/ Luteal phase of your cycle, boosting your body's ability to create and sustain progesterone.
* And the Detoxifying Mermaid Bath helps PMS symptoms such as cramps, bloating and moodiness. This blend is used in the days before your period is due. Women with PCOS and endometriosis swear by this delightful blend.
Your bath soak package should last for 4 baths. All soaks include a small vial of essential oil blend and 1 reusable bath sachet within the soak. Please be sure to remove the oil vial before filling 1/4 of the soak into an included sachet.   Add a few drops of the oil into the sachet, and add to the bath.
Soak at least once a week, but even every day is great.
It's ideal to soak for at least 15 minutes, ideally while listening to relaxing music or a guided meditation. You can even perform the womb massage while you soak. 
Not intended for pregnant women. Discontinue use once you have a positive pregnancy test.
Shipping + ❤️
✨ When will my order ship?
Once an order is placed we typically ship within 1 business day. The delivery time is typically 2-3 business days, but can be longer depending on location and circumstances.

❤️ Truth, Love, Trust & Support 'Baby Dust' Promise...
"This is my life's work and I promise to always love, honor and support you on your journey towards having a beautiful healthy baby."

-Ariele Myers 🌕
Licensed Acupuncturist, Board Certified Herbalist, and Fertility Specialist.
Customer Reviews
Write a Review
Ask a Question
12/16/2022
Courtney

United States
The biggest game changer!
I just want to spread positivity and speak my gratitude for Ariele and all her staff for allowing this work to "do" them. I started drinking the detox tea in August 2022 completed the whole bag and started the fertile mama, fertile moon, womb warming and the b*tches brew. I also used the bath soaks, yoni steam, and womb massage oils. The biggest game changer was investing in the Fertility Fix program. I just received my positive pregnancy test! This is my first pregnancy and I'm overjoyed! Allow this work to truly "do" you and aim to enjoy each phase of your cycle! Each cycle you are truly strengthen your fertility.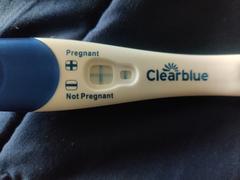 10/03/2022
Jessica

United States
05/20/2022
Mary

United States
First ever positive test in 6 years!!
We just had our anatomy scan and baby is growing perfectly. I'm so grateful. My husband and I were TTC for almost 6 years, we had a diagnosis of low ***** count. We went through two IUI's and two IVF cycles which ended with no viable embryos. A couple months after our second IVF cycle, I got pregnant naturally. My first ever positive test in 6 years. I never ever thought this day would come and I'm still in shock and haven't fully accepted it. But I'm so grateful, and I wanted to share this hope with you all. I had the teas on and off, but the cycle I got pregnant, I was drinking A LOT of detox tea (honestly mostly bc I found a fancy new tea pot and it made it a fun ritual. I thought my period was coming bc my boobs were so sore for two weeks, and I continued to drink the detox thinking my period would come soon. It never did, and I can't explain the shock of that positive pregnancy test. I looked in the mirror, literally saying to myself out loud "WHAT?!" For at least 15 minutes. That cycle, I also took a few baths with the WOTW soaks.
04/18/2022
Jocelyn

United States
it was ABSOLUTELY worth it!
I ordered this on afterpay back in December. I got the fertile moon, fertile mama, and the soak. My husband and I decided to not try through the month of January, to let the tea build up in my system, but we found out we were pregnant January 26th!! After over 6 months of trying, I am a firm believer in this tea! Our daughter will be here at the end of September!! If you're on the fence about trying, like I was, it was ABSOLUTELY worth it! I still have 1 unopened bag of the tea just because I didn't even need to use it!!
01/24/2022
Angie

United States
I just got my positive test!
Ok ladies, my turn for a success story! I turned 44 on Dec 7, and that's the day I started the detox tea. I just got my positive test! Sipping on some blissful mama at the moment (I got some just in case!). Need some prayers from everyone that this one sticks and I get my second rainbow baby! Editing to add: I did the fertility bundle, which included detox, fertile mama, and b*tches brew teas, ear seeds, bath soak, and womb massage oil. I followed the instructions for everything, and got pregnant on my second ovulation cycle. If you haven't tried one of the bundles, I highly recommend!
11/16/2021
Felicia P.

United States
I got my rainbow baby after so many miscarriages.
He's here‼️ All the praying, crying, doctors appointments and the teas were worth it‼️I got my rainbow baby after so many miscarriages. I'm so in love with him 23 hours of labor and a failed attempt of an epidural and the final piece to my heart arrived 11/5/21 4lbs and 4ozs and he is perfect Thank you God labor was intense but worth every contraction‼️ Wisdom of the womb teas & Ariel thank you for making such wonderful teas to help assist women and men become fertile again I'm very Grateful ❤️