B*tch's Brew Yoni Steam
$27.00
$20.00
You save:

$7.00 USD

(25.93%)
B*tch's Brew Yoni Steam
$27.00
$20.00
You save:

$7.00 USD

(25.93%)
Product Description
Info

Ingredients

Shipping + ❤️
Description
B*tch's Brew Yoni Steam supports fertility and menstrual health. 
Yoni Steaming is a practice that has been passed down through generations of women for centuries, and can support a wide range of reproductive health issues, but mostly helps you connect with your womb and your menstrual cycle

Reduce pain, cramping, bloating and fatigue associated with ovulation and menstruation.
Decrease heavy menstrual flow, eliminate and lessen clotting and spotting. 
Regulate irregular menstrual cycles, including ovulation. 
Increase fertility, especially when used in conjunction with other Wisdom of the Womb teas and support. 
Ease menopausal symptoms such as dryness and pain during sex. 
Reduce chronic yeast infections and normalize vaginal bacteria. 
Speed healing after childbirth, including vaginal tears and episiotomies. 
Reduce uterine fibroids, ovarian cysts, uterine weakness, uterine prolapse & endometriosis.
Assist with the healing of hemorrhoids.
Supports Yin Energy, which in turn, supports healthy follicular development.
Brings warmth into the womb, which can support the luteal phase of the cycle. 
Can heal cervical issues and promote healthy cellular development. 
Click here for more information about how and when to steam, how to create rituals around steaming and more.
While specific "Yoni steam" seats are available at various resources on the web, they can be expensive, upwards of $75. Of course, you're welcome to purchase one of those, but even a simple toilet seat from Home Depot will suffice and will save you a lot of money. 
Not intended for pregnant women. Discontinue use once you have a positive pregnancy test. 
Ingredients
Organic Ingredients: Rose Petals, Calendula, Yarrow Flower, Lavender Flower, Rosemary Leaf, Comfrey, Mugwort, Motherwort
Shipping + ❤️
✨ When will my order ship?
Once an order is placed we typically ship within 1 business day. The delivery time is typically 2-3 business days, but can be longer depending on location and circumstances.

❤️ Truth, Love, Trust & Support 'Baby Dust' Promise...
"This is my life's work and I promise to always love, honor and support you on your journey towards having a beautiful healthy baby."

-Ariele Myers 🌕
Licensed Acupuncturist, Board Certified Herbalist, and Fertility Specialist.
Customer Reviews
Write a Review
Ask a Question
12/16/2022
Courtney

United States
The biggest game changer!
I just want to spread positivity and speak my gratitude for Ariele and all her staff for allowing this work to "do" them. I started drinking the detox tea in August 2022 completed the whole bag and started the fertile mama, fertile moon, womb warming and the b*tches brew. I also used the bath soaks, yoni steam, and womb massage oils. The biggest game changer was investing in the Fertility Fix program. I just received my positive pregnancy test! This is my first pregnancy and I'm overjoyed! Allow this work to truly "do" you and aim to enjoy each phase of your cycle! Each cycle you are truly strengthen your fertility.
10/10/2022
Niomi D.

United States
Product review
Best thing I could of start using for my vaginal area it make me feel so good every time I use it before and after my period. It also help me with my fibroids and menstrual cramps. I would recommend this product and their other one too. Thank you for your amazing product that change my life
05/12/2022
Gloria

United States
These herbs are the truth!!!
HONEYYYYY these herbs are the truth‼️‼️ I sufferED from irregular period's, I went to the doctor they prescribed birth control to help balance my hormones… GOD IS GOOD‼️ALL THE ⏰ because he led me to this page for all natural healing ❤️❤️❤️❤️❤️❤️ @wisdomofthewomb Yoni stem , I stem a week before my menstrual & literally ON TIME IF NOT A DAY OR TWO EARLY, NO CRAMPS, NO BLOOD CLOTS… I'm headed to the site to buy more right now❤️❤️❤️❤️❤️
11/01/2021
Diana

United States
My sweet little angel arrived on 10/25
My sweet little angel arrived on 10/25 two weeks early but after all my family has been through in the past 6 months, his arrival is perfect Started taking the Detox and Fertile Moon Teas from the PCOS bundle in January daily after two failed rounds of clomid. Along with the teas, I was taking prenatals, iron, folic acid, super b complex, vitamins A, E, and D and also drinking moringa root tea. Then in March, I got my positive test ✨ don't give up ladies! Be patient with yourselves and shift your focus from trying to conceive. The mind is very powerful and if you're only doing the baby dance with the end goal of pregnancy, you're already putting too much stress on your body. Relax and just go with the flow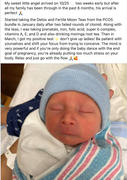 10/26/2021
Teyahna

United States
Today I delivered my baby... after not becoming pregnant for 11 years due to PCOS
Today I delivered my baby. 7lbs 20in. After not becoming pregnant for 11 years due to PCOS. I first thank God for blessing me with another child. Then I thank you and your team and your life altering teas. Besides prayer the teas were the only thing I used to nourish my body to be able to conceive,carry and deliver a healthy baby. So thank you. And to all the women trying..keep at it! I'm a testament to the miracle that is Wisdom of the Womb
10/11/2021
AMANDA C.

United States
AMAZING!
My favorite product so far! I Have tried many products and this is by far my favorite. Make sure you're mediating and finding your silence when using this. It is so calming, healing and fantastic. I have since purchased in bulk, gave to all of my friends and family and have not stopped talking about it. This is really an amazing way to relax and bring yourself to your body.
Best yoni steam
I've recently started using this yoni steam due to vaginal dryness, complications with my cycle being irregular. After using this product holy grail! My cycle was totally different. The first cycle after the first use I had lots of clots and minor cramping(it was cleaning me out) second cycle after using this I had no clots, no cramps, lighter period and bright red blood! It's also a great way to unwind and relax after a long day. I use this steam twice after my period and twice before it starts. Definitely a miracle.
10/07/2021
Sara L.

United States
I want to thank Wisdom of the Womb products for helping me conceive
my rainbow baby arrived 8/3/21 Ms. Denver is now two months. I want to thank Wisdom of the Womb products for helping me conceive. It was not easy ladies. I had to learn my body, get test done and made sure i ***** all my teas on schedule. Detox ******* brew Fertile mama Fertile moon Also did yoni steams 2x a month. It took me 1 1/2 year, and yes i was on BC for 12 years. Best of luck to everyone
09/30/2021
Sabrina L.

United States
Wow... So relaxing but also healed my chronic "situation"
It just never occurred to me that I might want to "steam" my "Yoni"... but I've had chronic issues like vaginosis and yeast infections, itchiness for not reason, dryness... all the things. Also, cramping with my period and around ovulation. I started steaming just because there was a special running for it... and I was getting so frustrated and didn't want to do yet another 3 day monistat round... OMG, i would have started so much earlier had I known this would be the best. Now I steam every new moon and full moon, as long as I'm not bleeding, my husband thinks it's hilarious because i'm so into it -- I've literally not been itchy or had weird discharge since my first steam, when I discharged a LOT of weird mucus and even clots with my next period. My cramping reduced after each time I steamed and now I get almost zero cramping. Ladies, I'm serious... steam your vajajay. I don't know why it works but it "WORKS". Legit.