Womb Healing Oil Blend
$52.00
$42.00
You save:

$10.00 USD

(19.23%)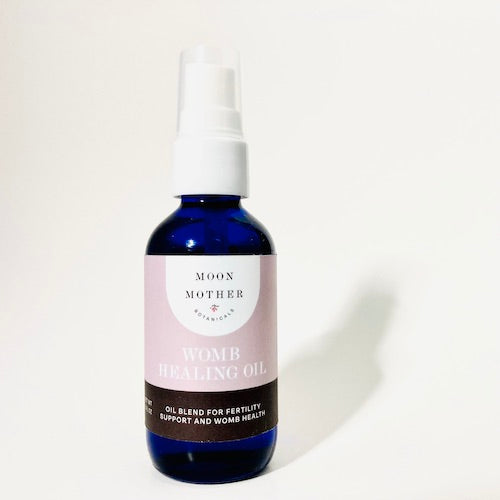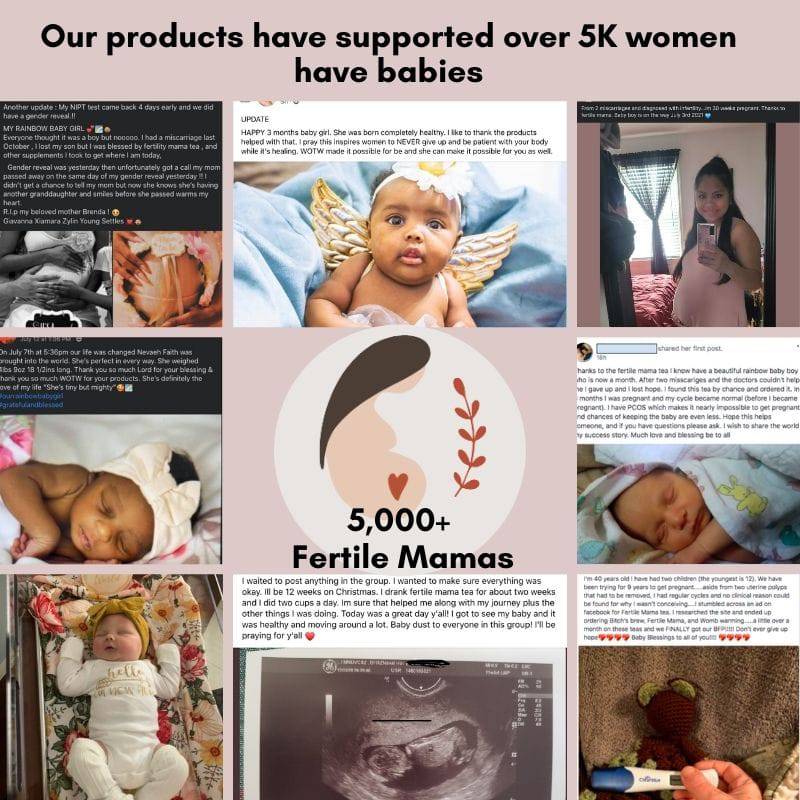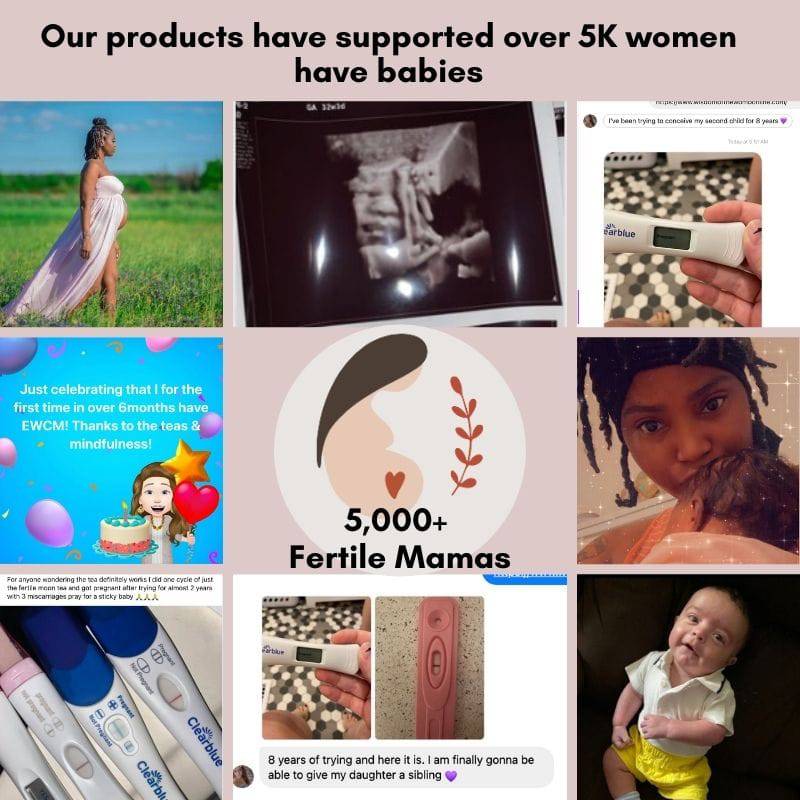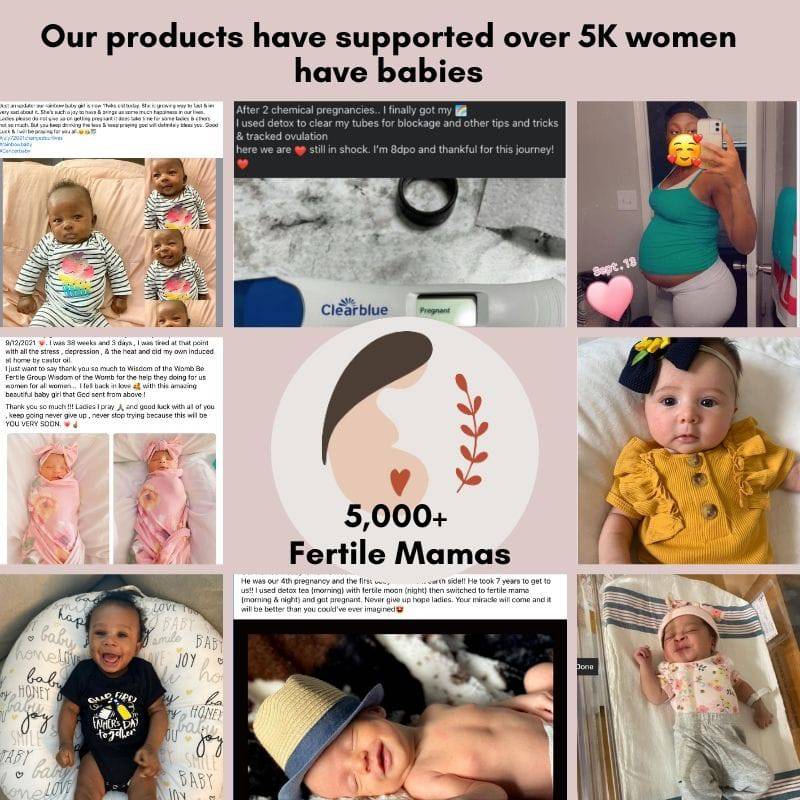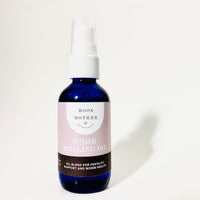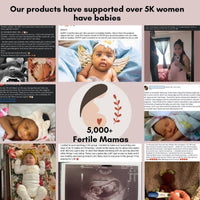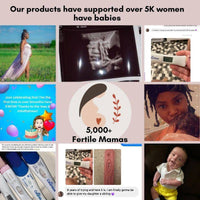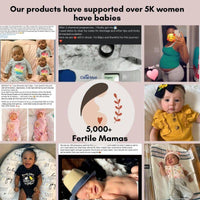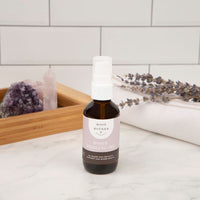 Womb Healing Oil Blend
$52.00
$42.00
You save:

$10.00 USD

(19.23%)
Product Description
Info

Ingredients

Shipping + ❤️
Description
(For Fertility Womb Massage)
This soul nourishing blend is formulated with uterine strengthening organic essential oils. When used in conjunction with womb massage, this blend can encourage movement of both energetic and physical blockages, bring blood flow to the reproductive organs, help to invigorate the liver to encourage detoxification and balance hormone levels. You will receive a free womb massage training video, as well as additional fertility support techniques when you purchase this Womb Healing Massage Oil.

2 Fl. Oz.

Womb Warming Oil and Castor Oil pictured are sold separately. 
For instructions on how to perform fertility womb massage, Click Here. 
Not intended for pregnant women. Discontinue use once you have a positive pregnancy test.
Ingredients
Organic Ingredients:
Safflower Oil, Essential oils of sweet marjoram, cypress, lavender, clary sage, ylang ylang, geranium, chamomile
Shipping + ❤️
✨ When will my order ship?
We do our best to ship within 3-5 business days. Delivery time is typically 3-5 business days, but can be longer depending on location and circumstances.

❤️ Truth, Love, Trust & Support 'Baby Dust' Promise...
"This is my life's work and I promise to always love, honor and support you on your journey towards having a beautiful healthy baby."

-Ariele Myers 🌕
Licensed Acupuncturist, Board Certified Herbalist, and Fertility Specialist.
Customer Reviews
Write a Review
Ask a Question
10/11/2023
Mrs E.

United States
I recommend this product
Reduced Lower Back Pain
This oil smells sooo good, I got my order yesterday & put it on my lower back, I drank 2 cups of detox tea & 2 cups of fertile mama. I usually have lower back pain I can feel during my A.M. stretches. Today when I did them my back didn't hurt! I don't know if it was the tea or the oil or a combination of both. In any event, Hallelujah! It's only the first day and I feel better already! I'm so excited to feel& see more results in the next few months!
09/11/2023
Anonymous

United States
I recommend this product
Womb Healing Oil Blend
First off, the smell captured me, secondly I experienced a lot of mucus, not sure if that's supposed to happen but, I will continue use until my little miracle happens!
02/17/2023
April

United States
Womb healing oil
This oil is amazing I been rubbing my belly since yesterday with it carrying it all around my house. This is high quality oil and it smells amazing. The castor oil and womb healing oil is my new bff so in love.
Womb Healing Oil
I had a tubal reversal in July 2022. I had been doing womb massage prior to my surgery with just a regular massage oil. I started using the Womb Healing Oil on my current cycle (December 2022) and have noticed that I just feel more energized in general after doing the womb massage with this oil. Usually, I will have spotting on the "last" day of my period so I started doing massage the next day when I had no obvious flow. After doing massage that day, I ended up having more spotting/light flow the next morning and then it stopped. I feel like it helped clear out some stagnancy that was left over so I'm pleased with that. Also, this oil smells *so* good! Every time I walk by the bottle I have to pick it up and smell it! I'm also drinking Fertile Mama and will switch to B*tch's Brew during my luteal phase to hopefully help ward off any scar tissue from forming in my tubes. Here's hoping this helps on our fertility journey! Best of luck and baby dust to others who are seeking it!
08/04/2022
Wilma

United States
So excited beyond words!!
Something Magical happened on my 39th Birthday Aug.2!!! So excited beyond words!! TTC #1 since June 2020 So grateful for feeling more balanced since using teas and friends have commented on having a glowing face since I started using teas!! Positivity and prayers appreciated!!
05/30/2022
Andrea

United States
I worked with my body, not against it!
Sixth Blood Phase, it's not coming!!! We found out May 21 at a couple days late. We were in disbelief. I had just had a blood test and my iron and omegas were still low. They let me go back on my iron (good kind) and off Lactoferrin on May 12. I ovulated per BBT May 11. I thought nothing would happen because of that and maybe next month. I've never had a positive. I'm 41. I'm so thankful for Chinese Traditional Medicine, Ariel and team and this group. You all gave me a like minded place to come and read your stories so I could heal. I also want to mention I had to heal the hurt and grief in my heart. I could feel a direct connection to my uterus and Ariel has said as much. I told my body how strong it is. I recognized my feminine qualities again because they had been taken over in this man's world. Ariel's teachings really hit it on the head. I'm so thankful I found something I could do to work with my body, not against it. Remember your body wants to be pregnant and only you have the wisdom of your womb! The Blissful Momma tea is amazing!! All the prayers and good thoughts are appreciated!
05/24/2022
Demoye'

United States
We absolutely LOVE the tea!
I used the Fertile Wellness Bundle & added fertile moon. My fiancé used the Male Fertility Bundle as well. We absolutely LOVE the tea feels good going in & taste great. I let it set for at least 15mins making sure it's dark. I also changed my diet..it was needed lol but I cut out sugar & kept that to once a week & carbs & Light exercises. I like to believe getting your body healthy & clean first does all the work for being results.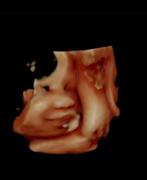 05/10/2022
Angie

United States
Success in 2 cycles!
I had two first trimester losses in 2020, around 8 weeks and 6 weeks. I did a cleanse in January 2021 to reset my body, and tried to conceive all of 2021 with no luck. I turned 44 in Dec 2021, and started the fertile wellness bundle that month. I did one full cycle with the teas, womb massage, bath soaks, ear seeds. She recommends the massage after ovulation if you think you didn't conceive, says it's very healing, but not if you tried to conceive. After my second ovulation I stopped the massage. I got pregnant that cycle. I had ordered the blissful mama tea just in case, so I drank that from my positive, twice a day, for at least the first trimester; currently 19 weeks along.
04/25/2022
Erin

United States
thirteen weeks today!
..thirteen weeks today! hope you enjoy our announcement photos & combo gender reveal (peep how the garland changes!). ever grateful for y'all and for the incredible gift of your teas, as I have shared before it was really the only thing that we added/changed & made all the difference in bringing this gift to us! lil barn baby girl, this october! xoxo
04/08/2022
Kayti

Mexico
wow what a difference!
I tried the womb massage and oil for the first time last night and wow what a difference! I kept saying to myself that I feel like I have a blockage somewhere and maybe that's why I'm not getting pregnant. After the massage I felt as if it helped release the blockage so to speak. I'm looking forward to adding the castor oil next time. Fingers crossed I finally get two pink lines.