Womb Warming Fertility Moxa / Moxibustion Pole
$6.50
$4.00
You save:

$2.50 USD

(33.33%)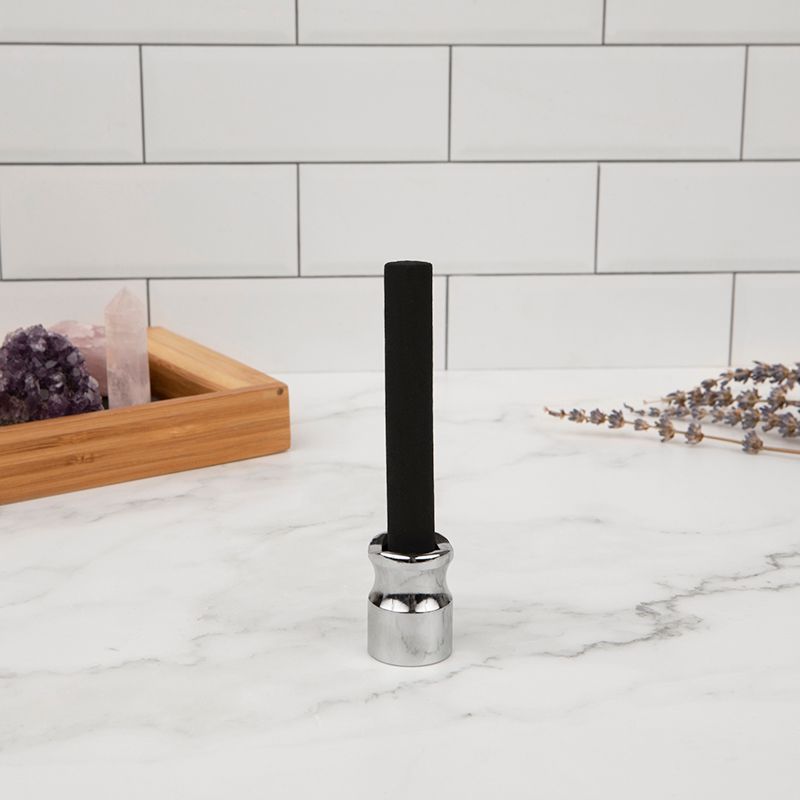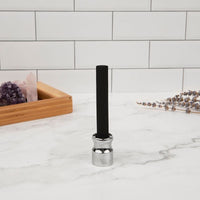 Womb Warming Fertility Moxa / Moxibustion Pole
$6.50
$4.00
You save:

$2.50 USD

(33.33%)
Product Description
Description
Moxa (or moxibustion) is a highly effective way to use plant medicine to support your fertility. Ai Ye or Mugwort is a warming and invigorating herb that is processed and formed into a "pole," which can be burned, almost like incense. While the lit pole is not to be placed directly on your skin, it is held about an inch from your skin, over different acupuncture points on your body. The warmth and heat from the moxa stimulates, warms and invigorates the acupuncture point and the meridian to stimulate your reproductive organs.
We carry both full smoke and smokeless moxa poles. 
Choose smokeless for reduced smoke and smell.
Some practitioners believe that the smoky moxa is more beneficial and warming. The SMOKE moxa is smoky AF, so be sure to use in a ventilated room.

Moxa is excellent for improving your partner's reproductive health as well!
You'll receive a moxa pole as well as a free chart indicating exactly where the moxa should be used.
Pictured Moxa Extinguisher is sold separately. Be sure to purchase an extinguisher so that you can properly "snuff out" your pole. 
Use daily, for at least 1 minute on each point, or at least 10 minutes total. Use on both sides of the body.

For Detailed instructions on how to use Moxa, Click Here or visit the link below. 
DO NOT USE MOXA (ESPECIALLY ABOVE THE WAIST) IF YOU HAVE A HISTORY OF HIGH BLOOD PRESSURE.
Shipping + ❤️
✨ When will my order ship?
We do our best to ship within 3-5 business days. Delivery time is typically 3-5 business days, but can be longer depending on location and circumstances.

❤️ Truth, Love, Trust & Support 'Baby Dust' Promise...
"This is my life's work and I promise to always love, honor and support you on your journey towards having a beautiful healthy baby."

-Ariele Myers 🌕
Licensed Acupuncturist, Board Certified Herbalist, and Fertility Specialist.
Customer Reviews
Write a Review
Ask a Question
05/01/2023
Anonymous

United States
I recommend this product
Amazing products
I love the moxibustion pole I feel like it really works and it's so relaxing can't wait to get my BFP
02/28/2023
Mel B.

United States
Moxa
The moxa is relaxing and warm. I normally do it on myself.
01/25/2023
Sarah

United States
A Huge Leap Forward
It feels surreal and wonderful to have my first positive test as I've never been pregnant. I'm 37 and my husband & I have been trying for 15 months with many months of feeling sad that maybe it wouldn't happen. I used the detox, fertile mama, ******* brew, fertile moon teas. Regular Moxi (and my husband), one major womb massage (between period & ovulation) and castor oil pack with a very deep Meditation (YouTube Dr Valerie Girard). This cycle I deeply focused on releasing generational trauma and felt shifts. Now hopes and wishes this sticks… but even if it doesn't I feel so happy to know we can get pregnant and this is a huge leap forward in this journey!!! Thank you Ariele for helping me reconnect with my womb and the spiritual side as well as the health benefits of your magical teas
01/25/2023
Ashton

United States
Our Girl is Growing!
I told you ladies about my juicy uterine lining thanks to the teas! I did moxa daily during the 2 week waiting period after IVF implantation, while also drinking Blissful Mama 2x a day. I'm pleased to share we are 18 weeks pregnant and our girl is growing! Keep the faith ladies; baby dust to all!
12/01/2022
Ivelisse S.

United States
Its working
The very first day I used it I felt cramps and from what I have read thats a great sign its moving the blockage. I was told my tubes were blocked. I do not use it everyday but I can feel this working. Fingers crossed and baby dust to all
12/01/2022
Holly H.

United States
Moxabustion
Been using the Moxa faithfully for a couple months. I love how it feels on my lower abdomen, I can definitely feel it working!!
07/22/2022
Lizzy

United States
The hope I now embody...
I am now almost 12 weeks pregnant & I saw my son or daughter dancing on the screen last week. Ariel & team, to say I owe you everything is an understatement. I read your blogs, got inspired by each testimony, I did the Moxa, womb warming oil, I got in touch with my womb & my femiminine...deeply. I drank these teas just knowing what would happen. I want to give any woman reading this the hope that I now embody.
07/02/2022
Ashlee m.

United States
20 weeks pregnant
After over a year of trying, I'm now 20 weeks pregnant with my 3rd baby after only a few weeks of drinking womb warming tea and moxibustion ! Grateful and blessed <3
05/30/2022
Andrea

United States
I worked with my body, not against it!
Sixth Blood Phase, it's not coming!!! We found out May 21 at a couple days late. We were in disbelief. I had just had a blood test and my iron and omegas were still low. They let me go back on my iron (good kind) and off Lactoferrin on May 12. I ovulated per BBT May 11. I thought nothing would happen because of that and maybe next month. I've never had a positive. I'm 41. I'm so thankful for Chinese Traditional Medicine, Ariel and team and this group. You all gave me a like minded place to come and read your stories so I could heal. I also want to mention I had to heal the hurt and grief in my heart. I could feel a direct connection to my uterus and Ariel has said as much. I told my body how strong it is. I recognized my feminine qualities again because they had been taken over in this man's world. Ariel's teachings really hit it on the head. I'm so thankful I found something I could do to work with my body, not against it. Remember your body wants to be pregnant and only you have the wisdom of your womb! The Blissful Momma tea is amazing!! All the prayers and good thoughts are appreciated!
04/21/2022
Sabrina F.

United States
I'm 44 and thought pregnancy was not an option anymore..
I'm soooooo excited. After suffering from kidney disease, fibroids and ovarian cyst.....lm happy to say...I'm pregnant!!!!! I followed the fertile bundle directions given through email, purchased moxa stick and ear seeds....I got my first positive ovulation test results and baby danced....and now positive pregnancy test!!!! Thank you wisdom of the womb...I'm 44 and thought pregnancy was not an option anymore..