Fertility Ear Seeds & Guide
$7.50
$5.00
You save:

$2.50 USD

(33.33%)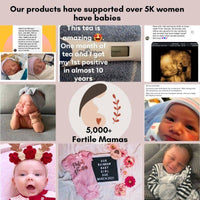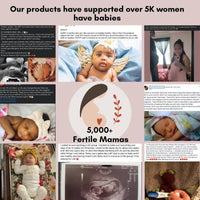 Fertility Ear Seeds & Guide
$7.50
$5.00
You save:

$2.50 USD

(33.33%)
Product Description
Description
Just as the body is a microsystem of the Universe, the ear is a microsystem of the body. Ear seeds are an easy way to positively impact your reproductive health and improve your fertility, and just take about five minutes to apply, once a week. You can rub them whenever you remember, stimulating the organs involved in reproduction.
Ear seeds are excellent for improving your partner's reproductive health as well!
You'll receive two month's worth of ear seeds. 
For instructions on how and where to use your ear seeds, Click Here. 
Shipping + ❤️
✨ When will my order ship?
We do our best to ship within 3-5 business days. Delivery time is typically 3-5 business days, but can be longer depending on location and circumstances.

❤️ Truth, Love, Trust & Support 'Baby Dust' Promise...
"This is my life's work and I promise to always love, honor and support you on your journey towards having a beautiful healthy baby."

-Ariele Myers 🌕
Licensed Acupuncturist, Board Certified Herbalist, and Fertility Specialist.
Customer Reviews
100
reviewers would recommend this product
Write a Review
Ask a Question
07/31/2023
Natasha W.

United States
I recommend this product
Amazing!!
These eat seeds are so beneficial to overall health. I was a little skeptic as I've researched ear seeds and their benefits!! I didn't know that our ears have so many pressure points. I went by the ear chart sent along with another ear chart, I wanted to see if it would help with migraines and insomnia, THEY TRULY WORK AND THESE EAR SEEDS STAY IN YOUR EAR, IVE HAD MY SEEDS ON FOR 6 DAYS AND THEY HAVEN't MOVED OUT OF PLACE NOT EVEN ONCE!!
05/30/2022
Andrea

United States
I worked with my body, not against it!
Sixth Blood Phase, it's not coming!!! We found out May 21 at a couple days late. We were in disbelief. I had just had a blood test and my iron and omegas were still low. They let me go back on my iron (good kind) and off Lactoferrin on May 12. I ovulated per BBT May 11. I thought nothing would happen because of that and maybe next month. I've never had a positive. I'm 41. I'm so thankful for Chinese Traditional Medicine, Ariel and team and this group. You all gave me a like minded place to come and read your stories so I could heal. I also want to mention I had to heal the hurt and grief in my heart. I could feel a direct connection to my uterus and Ariel has said as much. I told my body how strong it is. I recognized my feminine qualities again because they had been taken over in this man's world. Ariel's teachings really hit it on the head. I'm so thankful I found something I could do to work with my body, not against it. Remember your body wants to be pregnant and only you have the wisdom of your womb! The Blissful Momma tea is amazing!! All the prayers and good thoughts are appreciated!
05/10/2022
Angie

United States
Currently 19 weeks!
I had two first trimester losses in 2020, around 8 weeks and 6 weeks. I did a cleanse in January 2021 to reset my body, and tried to conceive all of 2021 with no luck. I turned 44 in Dec 2021, and started the fertile wellness bundle that month. I did one full cycle with the teas, womb massage, bath soaks, ear seeds. She recommends the massage after ovulation if you think you didn't conceive, says it's very healing, but not if you tried to conceive. After my second ovulation I stopped the massage. I got pregnant that cycle. I had ordered the blissful mama tea just in case, so I drank that from my positive, twice a day, for at least the first trimester.
04/21/2022
Sabrina F.

United States
I'm 44 and thought pregnancy was not an option anymore..
I'm soooooo excited. After suffering from kidney disease, fibroids and ovarian cyst.....lm happy to say...I'm pregnant!!!!! I followed the fertile bundle directions given through email, purchased moxa stick and ear seeds....I got my first positive ovulation test results and baby danced....and now positive pregnancy test!!!! Thank you wisdom of the womb...I'm 44 and thought pregnancy was not an option anymore..
04/10/2022
Bonnie K.

United States
Ear seeds
These ear seeds are part of my daily routine of taking care of me…. It's a little challenging to put them in my own ears… I use a tweezer which helps me apply them. As time goes by though, they do feel sticky in my ear… but happy to continue finding new ways to support and connect to my body
01/24/2022
Angie

United States
I just got my positive test!
Ok ladies, my turn for a success story! I turned 44 on Dec 7, and that's the day I started the detox tea. I just got my positive test! Sipping on some blissful mama at the moment (I got some just in case!). Need some prayers from everyone that this one sticks and I get my second rainbow baby! Editing to add: I did the fertility bundle, which included detox, fertile mama, and b*tches brew teas, ear seeds, bath soak, and womb massage oil. I followed the instructions for everything, and got pregnant on my second ovulation cycle. If you haven't tried one of the bundles, I highly recommend!
10/10/2021
Betsy

United States
Love the ear seeds, very comfortable
I wore the seeds on my ears for a week, they stay put, can't notice they are there.