Wise Woman Tea: Herbal Blend for the Hormonal Changes that Arise With Aging
$44.00
$34.00
You save:

$10.00 USD

(22.73%)
Wise Woman Tea: Herbal Blend for the Hormonal Changes that Arise With Aging
$44.00
$34.00
You save:

$10.00 USD

(22.73%)
Product Description
Info

Ingredients

Shipping + ❤️
Description
Wise Woman Tea contains both western and Chinese herbs (grown locally & organically) to effectively ease symptoms of hormonal imbalance due to aging as well as even menopause, while still tasting delicious.
This herbal blend helps to balance the hormones that can contribute to fatigue, anxiety, hot flashes, dryness, mood swings and sleep issues that can occur during menopause.
Supports lowering of both elevated FSH levels and improves AMH levels.
Please see our High FSH bundle for information on how to combine Wise Woman with Fertile Mama Tea for best support. 
HOW TO PREPARE YOUR TEA

Add 1 Tbsp. herbal blend to a tea infuser or French press.
Pour boiling water over the herbs and infuse for 5-15 minutes. Herbs may steep longer than 15 minutes for a stronger infusion.
Remove infuser or strain herbs and enjoy your tea warm, at least 2 cups per day.
You may add a bit of honey or sweetener as desired.
Not intended for pregnant women. Discontinue use once you have a positive pregnancy test.
5 oz. Loose Leaf contains approximately 35 servings
Ingredients
Organic Ingredients:
Raspberry Leaf, Go Ji Berries, Comfrey, Red Clover Blossoms, Dandelion, Alfalfa, Nettle, Motherwort, Orange Peel, Wild yam, Licorice, Yellow Dock, Black Cohosh, Ginseng, Dang Gui, Ginger, Chaste Tree Berry, Molasses, Rehmannia, Anemarhennae, Ophiopogon, Cinnamon, Honey
Shipping + ❤️
✨ When will my order ship?
Once an order is placed we typically ship within 1 business day. The delivery time is typically 2-3 business days, but can be longer depending on location and circumstances.

❤️ Truth, Love, Trust & Support 'Baby Dust' Promise...
"This is my life's work and I promise to always love, honor and support you on your journey towards having a beautiful healthy baby."

-Ariele Myers 🌕
Licensed Acupuncturist, Board Certified Herbalist, and Fertility Specialist.
Customer Reviews
Write a Review
Ask a Question
02/21/2023
Naheelah

United States
Great help to women trying to conceive!
Hi i am just writing to let you know that you are a God sent I am now 43 years of age and i just had my first child at this age. A little about my story. Doctors said i had pcos from the age of 24 i had irregular periods all through out my life i tried to get pregnant n nothing. I came across your website n started to try your product i had a miss carriage then early last year i ordered your wise woman tea fertile moon n fertile mama i detoxed with the fertile moon n in less than a month boom i got a positive test i was pregnant i had my healthy baby girl Dec 2022 You are doing a excellent job God put you here to be of great help to women who struggle to conceive here is a pic of my miracle baby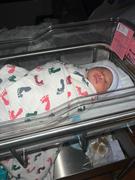 01/04/2023
Zuleika a.

United States
For me still I didn't see any different
10/28/2022
Martisa

United States
Just started.
I have been drinking tea and recommended supplements for about a month now. I have yet to see any real changes i have completelychangedmy dietand have recentlylost almost 100lbs. I have been diagnosed with POI and I'm only 33. I am praying this tea helps us get our little bundle of joy.
07/07/2022
SK

United States
Glory to God and thanks too
Hi had tried for about 6 months in vain so I chose to try the tea and I am 7 weeks pregnant now, glory to God and thanks too. Now I want to see how I can help a friend or two back home in Africa who are struggling with infertility, with the teas.
Pregnancy
TTC for 2.5 years, drank the teas and got pregnant in a month but unfortunately miscarried at 9 weeks last July, I've been drinking Fertile Mama, Moon and Detox everyday and occasionally Wise Woman for high FSH, paired with an IUI Praying this is our rainbow baby!