Fertile Moon Tea: Herbal Blend to Support Ovulation and Hormone Balance
$35.00
$30.00
You save:

$5.00 USD

(14.29%)
Fertile Moon Tea: Herbal Blend to Support Ovulation and Hormone Balance
$35.00
$30.00
You save:

$5.00 USD

(14.29%)
Product Description
Info

Ingredients

Shipping + ❤️
Description
Fertile Moon Tea is some delicious and effective goodness. We are often asked why you'd choose Fertile Moon over Fertile Mama… in general, it's more qi invigorating and supportive of Liver energy, which is often especially needed around ovulation. So all women can drink Fertile Moon Tea in the 4-5 days around ovulation.
BUT… if you're a woman who tends to have "dampness" which might manifest in symptoms like cysts (PCOS), excess weight and elevated blood sugar, you can actually drink Fertile Moon for the entire month to support your liver processing through all that dampness. 
It's especially supportive for women who have been struggling with ovulation, either due to PCOS or other causes. Rich in calcium and magnesium, it supports ovulation, strengthens the uterus, balances hormones, soothes and cleanses the liver, promotes circulations and tonifies the blood.
5 oz. Loose Leaf contains approximately 35 servings per package
To explore different ways to use Fertile Moon Tea in conjunction with our other teas, check out our bundles such as PCOS and Ovulation Support Bundles and our 3 months supply of teas. 
HOW TO PREPARE YOUR TEA

Add 1 Tbsp. herbal blend to a tea infuser or French press.
Pour boiling water over the herbs and infuse for 5-15 minutes. Herbs may steep longer than 15 minutes for a stronger infusion.
Remove infuser or strain herbs and enjoy your tea warm, at least 2 cups per day.
You may add a bit of honey or sweetener as desired.
Not intended for pregnant women. Discontinue use once you have a positive pregnancy test.
Ingredients
Organic Ingredients:
Dandelion Leaf, Lemon Balm, Raspberry Leaf, Milk Thistle, Mugwort, Lady's Mantle, Peppermint, Skullcap, Red Clover Flower, Nettle, Passion Flower, Honey, Chaste Tree Berries, Dang Gui, Black Cohosh
Shipping + ❤️
✨ When will my order ship?
Once an order is placed we typically ship within 1 business day. The delivery time is typically 2-3 business days, but can be longer depending on location and circumstances.

❤️ Truth, Love, Trust & Support 'Baby Dust' Promise...
"This is my life's work and I promise to always love, honor and support you on your journey towards having a beautiful healthy baby."

-Ariele Myers 🌕
Licensed Acupuncturist, Board Certified Herbalist, and Fertility Specialist.
Customer Reviews
Write a Review
Ask a Question
12/13/2022
Chérrie

United States
Your teas are GOLD
I just want to say thank you I struggled for years trying to get pregnant and I tried your teas last year I did the Fertile Moon Tea and the Fertile Mama Tea and I got pregnant with twins at the end of October 2021 I lost one of the twins early in the pregnancy I was due July 28,2022 but I had my daughter August 4,2022 she is now 3 months old now your teas are Gold I struggled for 12years!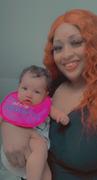 12/13/2022
Jacqui

United States
Clear skin in a couple months!
I struggled with hormonal acne ever since I got my IUD in 4 years ago. I tried medications, creams, and harsh treatments which never worked! Until I started working for Wisdom of The Womb and Ariele recommended drinking Fertile Moon!! I started with one month of Detox Tea, and then drank Fertile Moon with some B*tch's Brew here and there! It balanced my hormones and cleared my skin within a couple of months! If you need something to help regulate your hormones this is such an incredible option! I highly recommend!! Love Jacqui
10/04/2022
RK

United States
OMG! I just found out I am pregnant!!!
OMG! I just found out I am pregnant!!! I've used your teas for a month only. We have been trying for year and half with one miscarriage last year. I just ordered Blissful Mama tea. I hope this baby sticks, I am so excited and nervous!!!! Praying so much!!!!! Thank you so much for your products!!!!! You are amazing at what you do!!!! <3
08/09/2022
Emily

United States
08/03/2022
Rita R.

United States
Didnt work
I drank the teas for a year, no results, the fertile moon actually made me very hormonal and upset.
08/03/2022
Sabria D.

United States
What a difference!!
It's been almost a full month since I started the Fertile Moon tea and a little over 2 weeks since my last review. I was in my 2 week window; I didn't conceive this cycle but my cycle was soooo much better; I couldn't believe it!. As I've gotten older ( age 45) my cycle has been terrible; I have never experienced the pain and discomfort that I've been experiencing these last 6 months. I started the Fertile Moon tea to help assist with TTC but the tea has helped me in sooo many other ways. With me drinking the tea these several weeks starting the day of ovulation (July 11th) and I continued to drink throughout my full cycle. I mean what a difference!! I had less cramping no pain like before and no blood colts and I used to have blood clots with my cycles. It also helped to regulate it as well because it has been off these laat 6 month; very inconsistent cycle which isn't like my body. I was always on time; I guess with age a lot is changing in my body. The tea works!!! I will keep updating my progress Thanks
07/23/2022
Sabria D.

United States
Helped with other things
My back story that lead me to Wisdom of the womb: My husband and I have been TTC #6 for a year. This is something new as with all my pervious pregnancies I conceived with in 1- 2 cycles, even with #5 at 42 yrs old. Kids ages boy: 16, 15---girls: 8,6 2 Fast forward now at 45 yrs, not the case. After circling back to my OBGYN for answers: I am older and that may take more time TTC. All my blood work was within range, healthy ******. My OBGYN recommended my husband and I start a vitamin regimen that would support healthy egg/ ***** quality, that was 6 months ago. Still not pregnant! I started looking for other natural alternatives which led me to.. Wisdom of the Womb: My husband and I started the Fertile Moon/ Rooster tea the day it arrived on July 11th. Which was the day before my ovulation week. I drank the tea 3 times a day during ovulation( 1st in the am before eating, mid day & before bed) I still drink the tea twice a day even after ovulation. My husband drinks Rooster once a day before bed. Thus far the Fertile Moon tea has helped me with other things. I am sleeping better, I still had some breast milk that is drying up. ( I haven't nursed in over 2 yrs). I have a little more energy, not as tired throughout the day. My skin looks a bit clearer. I like the taste ( I do add some honey to mines), My husband has a bit more energy and with the added honey its not as bitter in taste. He didn't have any issues with ***** count or stamina.. I also gave up coffee the same day I started the tea, which could have been a factor with conception, as I drank way to much coffee. That wasn't an issue in the past but I am a lot older now. Again, I experiencing other great benefits from this tea besides healthy conception and implantation. So thank you! I am currently in my 2 week widow.I am not sure as of yet if the Fertile Moon / Rooster tea has helped with conception and healthy implantation. I am a woman of faith, I know Gods timing is perfect.. I will be in touch soon with an update.
07/07/2022
AR

United States
One month into your teas and I was ovulating on time with no meds!
Thank you ♥️ a friend reached out to me a few months ago and recommended I start following your social media platforms (please don't ever let the haters bring you down!!). I started reading your blogs and following your recommendations (started acupuncture, went gluten and dairy free, started doing fertility yoga, etc.). One month into your teas and I was ovulating on time with no meds! And so many of my PCOS symptoms were fine. Granted this cycle I got pregnant I was put back on letrozole but I knew my body was ready this time (my last 3 chemicals were all medicated cycles). So again, thank you thank you thank you! I've recommended you to a few friends and will continue to do so.
07/07/2022
Hp

United States
And that's it the next cycle I was surprised and happy
Hi Ariel, I got my positive pregnancy test two months back after drinking your teas. I started with detox tea for 10 days and then was using fertile moon and fertile mama drank for less than a month.My husband also was drinking rooster tea … I had used your detox bath soak once while I was using detox tea. And that's it the next cycle I was surprised and happy Thank you for the teas and will definitely recommend to my friends.❤️
07/07/2022
SK

United States
Glory to God and thanks too
Hi had tried for about 6 months in vain so I chose to try the tea and I am 7 weeks pregnant now, glory to God and thanks too. Now I want to see how I can help a friend or two back home in Africa who are struggling with infertility, with the teas.